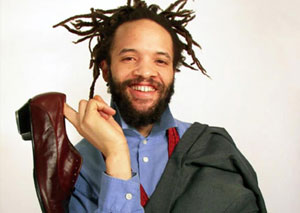 The answer would be Savion Glover, and honestly…no one does it better.
"Who," you ask? No worries…let me enlighten you to the legend that is this young man. Gregory Hines, a tap legend, was one of Glover's tap teachers. Hines stated that "Savion is possibly the best tap dancer that ever lived." Savion likes to start his pieces with some old school moves from famous tappers and then work his way into his own style. Hines says it's like paying homage to those he respects. When Honi Coles died, Savion performed at his memorial service. He finished his dance with a famous Coles move, a backflip into a split from standing position, then getting up without using one's hands. Savion rarely does this move because it wasn't his style, but he did it because it was Coles' style that Savion wanted to keep alive. "I feel like it's one of my responsibilities to keep the dance alive, to keep it out there, to keep the style."
Making his Broadway debut at age 10 in "The Tap Dance Kid" he dazzled the Great White Way in the first of his many New York City triumphant performances. At age 15 he became one of the youngest performers ever to be nominated for a Tony Award for his role in the musical "Black and Blue."
In "Jelly's Last Jam" Glover was nominated for the Drama Desk Award as Outstanding Featured Actor in a Musical. Perhaps his most notable achievement came in 1996 as performer and choreographer in "Bring in 'Da Noise, Bring in 'Da Funk" which earmed him another two Tony Nominations.
Since those days, he has gone on to appear in television specials, films and international tours that have earned him universal praise.
This month he will appear at the illustrious McCarter Theatre in Princeton,
where he will bring the latest edition of his genius, PLaYz' Trane, with accompanying musicians–another exuberant celebration of tap to sound and sound to tap. Like hisSTePz (2013), every Glover creation adds yet another dimension to the art of tap, combining his mastery of the complexities of jazz phrasing with wild improvisations, structures, and deconstruction.
So now that you know who he is…what are you waiting for. Get happy feet!
McCarter Theatre, Princeton
Friday, November 17
www.mccarter.org