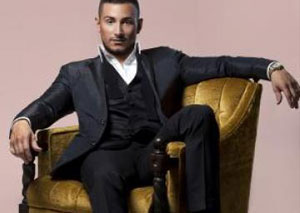 As many of you know, or a few of you may have heard, or that one guy down the street who asks for change every morning suspects…I am an entertainer as well as your faithful friendly neighborhood editor of eNJoynj.com. My touring schedule takes me all over the world (although my heart is always in the Garden State). In the course of my travels I have witnessed really hysterical comedians, dancers who light up the stage and more than a few vocalists who have either energized me or brought me to tears. During my last tour of New England and Canada, I had the honor and good fortune to discover an act that may have surpassed them all. His name is Lou Gazzara and his Live From Las Vegas Tour is coming to New Jersey. Lucky you!
A bit of background… At 17 years old, Lou, with the support of his loving grandmother, auditioned for Season 2 of American Idol and became one of the youngest contestants to make it to the final rounds. His rendition of "How Am I Supposed to Live Without You" brought the house down. Honestly, I still have no idea how Rueben Studdard won that year. From there he went on to star in a film with James Brolin and launch his singing career, which is in full swing today.
I watched his show as he seamlessly segued from Sinatra to James Brown to Frankie Valli, complete with the brilliant falsetto on all the super high notes. His Pavarotti earned him a standing ovation in the middle of his set!!! Women from 18 to 68 swooned as though it was Frankie at the Paramount in 1947. Personally, I was a little upset because the following night, I had to go before that same audience and attempt to top that. All I can say is, thank God I'm funny.
Lou is also a Broadway World Best Performance Nominee three straight years in a row for his leading role in "Vegas! The Show" where he brought to life characters such as Wayne Newton, Elton John and Tom Jones. He will now bring his show to Atlantic City where he will take up residence during the month of November at the Resorts Hotel and Casino. In addition to his many portrayals of artists and musical genres across the spectrum, he will also be performing songs from his holiday album, "This is Christmas."
"My dream was to create a beautiful picture that represented the many different memories people experience each year during the holidays. "This is Christmas" allowed me the opportunity to share all my favorite memories of the holiday season the best way I know how – through music"
Seeing him perform live will no doubt bring many memories for the fortunate audience members who witness this incredible night of entertainment.
Resorts, Atlantic City
Nov. 1-29
www.resortsac.com