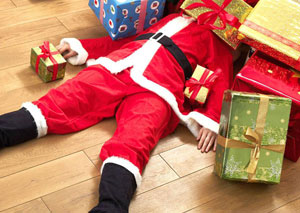 Before we get into the vast array of shopping avenues we have available to us in New Jersey, let me just say this. I "get" Black Friday. People make plans that would be the envy of a logistical support group of the 2nd Airborne Division. They know where they're going, where to park, what time to arrive, and most importantly – what they need to buy and how much they can save on this particular day.
But on or off the record… not a fan of Black Thursday, or as we know it…Thanksgiving! Eat your turkey, watch March of the Wooden Soldiers and some football and take a nap. You can still find bargains the next morning.
OK, that being said…where to shop. Oh, right, this is New Jersey, which means everywhere!!! There are malls, city department stores, small town boutiques, outlets, mom and pop shops and more kiosks than a Turkish Bazaar. Fortunately for you we have a crackerjack scout shopping team (which consists of my wife and three daughters) who have scoured the wheels and deals from Cape May to Vernon. So without further ado, here are some of the best places to find that special holiday gift:
Jackson Premium Outlets
With 70 stores it is easy to find impressive savings at Ann Taylor, Banana Republic, Brooks Brothers, Calvin Klein, Chico's, Coach, Gap Outlet, Guess, J.Crew, Joseph A. Banks, Lucky Brand, Nike, Polo Ralph Lauren, Reebok, Tommy Hilfiger and more.
Red Bank
The perfect way to spend an afternoon, with original boutiques like Cabana 19, Angel's Gowns, Femme Fatale, Free People, Eddie Bauer, Backward Glances Vintage, McLoone's Running Store and Brooks Brothers. And after the shopping is done, relax in one of this charming city's many eateries and coffee shops.
Bridgewater Commons
As far as malls go, it doesn't get much better than this centrally located shopping mecca in the heart of the Garden State. From Abercrombie & Fitch to Zales Jewelers, and everything in between, there is nothing you cannot find there. The atmosphere is upscale and the restaurants and cafes are cool and comforting when you need a break between Chico's and Victoria's Secret.
Downtown Haddonfield
Enjoy a latte at one of their coffeehouses, dine alfresco at a sidewalk cafe or by candlelit dinner at one of Haddonfield's many restaurants. Shop at over 200 shops and galleries catering to visitors and residents of all ages. It's no wonder why Courier Post readers have voted it the "Best Downtown Shopping Area" year after year.
The Shops at Riverside
The Shops at Riverside is Bergen County's premiere indoor shopping destination featuring an unrivaled collection of 72 specialty shops including such luxury brands as Hermes, Salvatore Ferragamo, Omega Boutique, Louis Vuitton, Brooks Brothers, Burberry and Kate Spade. To complete the fashionable mix, The Shops at Riverside also features a full-service day spa and is topped off by "New Jersey's own Restaurant Row" with eight appetizing dining options from fine dining at Morton's The Steakhouse to casual family dining at Smashburger. 
Costco
Yes, Costco. One of New Jersey's largest discount stores, which has locations throughout the state, is the premiere place to buy quality and quantity. It is not unreasonable to assume that one could buy enough gifts for a small metropolitan city in one visit. Plus you can buy tires at a very good price. I know cause I have.
Happy shopping my fellow New Jerseyan's. But first…Happy Thanksgiving from all of us here at www.eNJoynj.com.