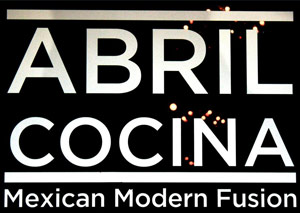 Craig Claiborne once described Mexican cuisine, aptly, as "earthy food, festive food, happy food, celebration food." One thing it's not is simple, despite the similarity of Mexican menus across the state. The complexity resides in the freshness of the ingredients and the skilled handling of the vibrant spices, peppers and citruses.
I have to confess something. I'm writing this article in Puerto Vallarta. I love Mexico. Don't judge me. I love the people, the culture and yes, the food. Rancho La Puerta, a spa just south of the border, has become famous mostly because of the meals it serves. The handmade tortillas, fresh-roasted corn, sauces and salsas are the kind of light, rarefied Mexican fusion food that is scarce in the New York area. A fine rendition of that food is now available at Abril Cocina, an elegant sliver of a restaurant that opened in Maplewood in April. Immensely popular since it opened in 2015, Abril Cocina, with just 40 seats, manages to serve about 150 people on a Saturday night.
The draw is the food, which chef/owner Mario Valadez calls "modern Mexican, with some Mexican fusion." That means, for example, that each taco filling (in a house-made tortilla) is heaped not with the standard chopped cilantro and raw onion, but with a tailored topping. Pulled pork, for example, gets chile ancho barbecue sauce and coleslaw; the Gobernador adds asadero cheese and corn to wild shrimp. Each portion of guacamole, flavored with pico de gallo, pumpkin seeds, salt and lime, is made to order and not over-mashed. Tostadas (especially the octopus and the crab) are hugely popular. In Valadez's home state of Monterrey, grilled beef is king. Abril Cocina doesn't have a grill, but his work-around works. He marinates hanger steak and pan sears it to produce the smoky, beefy essence Monterrey is famed for.
The New York Times said, "Abril Cocina offers a cuisine that is not often found on the East Coast."
Perhaps the better testimony might come from the patrons themselves. When, after her initial visit, a friend said, "I liked it so much that I came back three nights in a row," I understood completely.
175 Maplewood Avenue, Maplewood
973-327-2023