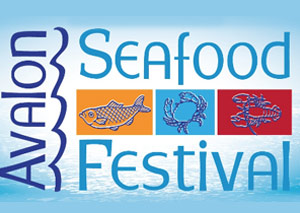 The air is cool and crisp. The salt water scent wafts over the beaches and the boardwalks from Long Branch to Ocean City. The humidity of the dog days of August is gone, and the sun still warms the air just enough to invite "sweater weather." The best part? There is NO traffic on the Parkway. Welcome to The Shore in October.
You might prefer a quiet walk along the beach with your sweetie. If a bicycle ride is your thing, there are plenty of paths for pedaling. If you're looking for something awesome, we have that too. Welcome to the Avalon Seafood Festival. The Avalon Chamber of Commerce is excited to welcome the return of the annual Seafood Festival on Saturday and Sunday, Oct. 8 and 9. Spend the weekend in the parking lot at 30th Street and the Beach from 10am to 5pm both days enjoying delicious food, live entertainment, crafts and games, and browsing the goods offered at various arts, clothing and accessory vendors.  With all the activities and culinary delights that await you, you might forget that October means football for the salivating masses. Thankfully, the good folks in Avalon remembered in a big way. The Sound Advice Lounge is where you want to park it for kickoff. On Saturday, college football broadcasts begin at noon. Sunday will feature NFL games, including the Lions vs. the Eagles, fresh off their stunning win against Big Blue. Of course, there will be beer for sale and plenty of snackables.                    Local talent rules. The acts featured this weekend have large followings in town and the crowds will be dancing in the streets. On Saturday, Sean Loosh and Brett Haenn will kick off the live-music lineup at 10am, followed by Tom Curtis Jr. and MJ Nestor. On Sunday, "Where's Pete" takes the stage for its Seafood Festival debut, followed by the Michael Thompson Duo.
If you're thinking, "This sounds like an adult event, probably not the place for kids," you'd be wrong. The weekend will be filled with plenty of fun for all ages, so bring the entire family! Ken the Magician will create balloon twists and wow the crowd with magic tricks. There will be an Eagles bounce house on Sunday and face painting for the kids as well. Make a visit to the craft tables for fall-and seafood-themed crafts and activities, too. Sunday goes "old school" with one of my favorite offerings – The People's Choice Chowder Contest. Don't you love that? It sounds like something out of a Jimmy Stewart movie. For $10, festival guests will be able to blind taste chowders made locally by area restaurants and vote for their favorite. Will the Golden Inn successfully defend its title? Oh the drama. Oh the tension. Oh the chowder! 
30th Street and the beach
October 8 & 9 10:00AM – 5:00PM