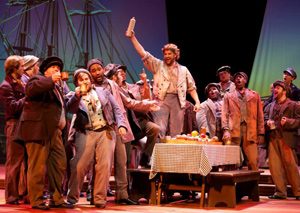 I'm not exactly sure what excites me the most about this cultural collage of entertainment coming to this lovely Mercer County town over the next few weeks. Eleven Events, Twenty-Two Performances:  Britten's Opera "Peter Grimes," Grammy-winning Jazz Singer, Contemporary Dance, A Cappella Jazz, Chamber Music, Sondheim's "A Little Night Music," Silent Film/Oratorio, Choral Concert, Baroque Orchestra, Organ Recital; also Nine Free Lectures plus Previews and Special Events!
And let's not forget the promise of future undiscovered talent to be unearthed in the Piano Competition.
The Princeton Festival in its twelfth season continues to bring new and different genres to its audiences, and this year's additions are especially appealing. The Festival, which runs from June 4 to June 26, will feature for the first time vocal jazz with Grammy award-winner Cécile McLorin Salvant, cutting edge modern dance with the dazzling Complexions Contemporary Ballet, and the silent film classic "The Passion of Joan of Arc" with a live performance of Richard Einhorn's oratorio for orchestra, chorus and soloists. They join the wide program of opera, musical comedy, chamber and choral music, Baroque orchestra, organ recital, a cappella jazz, and last but not least the Festival's own piano competition for young artists.
Tickets are now on sale for events in The Princeton Festival's 2016 season (www.princetonfestival.org), which opens June 4 with an a cappella concert and closes on June 26 with an opera and a musical comedy.
The Festival offers 22 performances in 11 different genres plus a series of free lectures, previews and special events at venues in Princeton and the surrounding area. Offerings range from three performances of the powerful opera Peter Grimes by Benjamin Britten to Grammy award‐winning jazz vocalist Cécile McLoren Salvant.
Stephen Sondheim's musical A Little Night Music runs for 10 performances.  The silent film masterpiece The Passion of Joan of Arc will be shown, accompanied by a live performance of Richard Einhorn's oratorio, Voices of Light, written especially for the film.
Also featured: the dazzling dance group Complexions Contemporary Ballet, the Concordia Chamber Players, baroque orchestra and choral concerts, an organ recital by Kristiaan Seynhave, and more.
It kicks off with its biggest fundraiser of the year, the 2016 Princeton Festival Gala, which makes the upcoming season possible. It will be held at Greenacres Country Club in Lawrenceville on Saturday, April 30 at 6 PM. Cocktails and dinner will be served, and there will be live and silent auctions, plus entertainment and dancing. Tickets can be purchased online.
June 4 – 26
www.princetonfestival.org