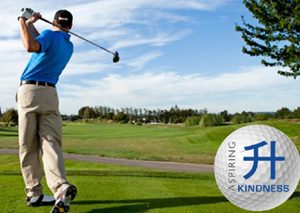 The Aspiring Kindness Foundation is proud to host our 4th annual charity golf outing on Monday, June 20th at the new Montclair Golf Club at Rock Spring in West Orange, NJ. Last year's event was an incredible success thanks to everyone's support and we expect the same for 2016! All golf participants will be entitled to a round of golf with cart, use of the practice facilities including the driving range, breakfast, lunch, dinner including an open bar, beer & non-alcoholic drinks in coolers throughout the course as well as a beverage cart, and an Aspiring Kindness Foundation memorabilia gift.
All golfers will be eligible for our grand prize as well as a chance to win prizes at various golf contests.
For those of you that are not interested in playing golf, we hope you will join us for dinner and drinks. We hope that you all will come out for a great day of golf and fun while supporting the Aspiring Kindness Foundation.
Over the past three years this event has raised more than $35,000! This has allowed our foundation to make an impact in a meaningful way by donating $20,000 to Seton Hall University's Housing & Residence Life Department in 2015, $12,000 to the Seton Hall University's Health and Counseling Services in 2014, and new uniforms to the South Orange Rescue Squad in 2012.
Includes:
18 holes of golf including green fees and cart
Bag drop service with gratuities included
Unlimited use of the practice facilities and driving range
Use of the club house locker room and amenities
Continental Breakfast
Lunch at the Halfway House (Including Beer & Soft Drinks)
Dinner including a 11/2 hour open bar
Beer & Non-alcoholic drinks throughout the course including a beverage cart
Aspiring Kindness Foundation Memorabilia Gift
The Course
Founded in 1925, The Montclair Golf Club at Rock Spring is one of the premier golf clubs in New Jersey providing members with a first class golf experience coupled with fine dining and a myriad of recreational and social activities.
Rock Spring occupies approximately 174-acres uniquely situated atop First Mountain in West Orange, New Jersey; located 30 minutes from New York City. The clubhouse overlooks five-acre, spring-fed Cable Lake, which adjoins the first and second holes of the golf course. The view to the East presents a panorama of the Manhattan skyline. The view to the West overlooks Cable Lake and the vista of Second Mountain.
Montclair Golf Club was recognized in 2009 as a Platinum Club of America and one of the top 100 country clubs nationally. In 2013 and 2015, it was awarded the prestigious Distinguished Emerald Club of the World award, as determined by the annual Distinguished Clubs of the World award program conducted by BoardRoom magazine, one of the most respected trade publications serving private clubs.