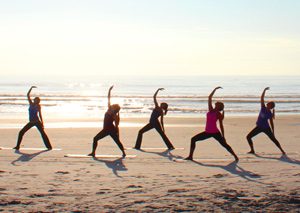 Namaste  – "The light in me honors the light in you"
Brian Wilson – "I've got the Warmth of the Sun within me…"
Mike "The Situation" – Can you put more oil on my back and gel in my hair?"
The Shore will never be the same. My oh my how times have changed. In the 60's the New Jersey coastline was all about the surfing and sun-filled carefree days glamourized in the songs of the Beach Boys. The 70's brought out the cool kids with the partying at the boardwalk bars and in the 80's more and more people (See: Benny's and Shooby's) came to the Shore in droves. The 90's saw the numbers getting bigger and bathing suits getting smaller. At this point, some of the young girls who follow the dubious trends of the cast of "Jersey Shore" look like they're wearing, for lack of a better phrase, "butt floss bikinis."
But in the modern world, where we have seen and done it all, and are looking for something more, something new, and most importantly, something meaningful, a new way of celebrating sun and sand has emerged – Yoga on the beach. Yes, bendy twists, seated stretches and standing warrior poses are not just for the studio space anymore. In fact, in celebrating the ritual of the sun, it seems in perfect harmony to have the celebration actually under the sun. You may not have the musical soundtrack (think Enya or George Winston, definitely not Mettalica) that a primo sound system can deliver within a confined space but seriously, is there a better soundtrack than the sound of the waves crashing on the beach and the seagulls chirping (I don't know, if it's chirping or screeching)? If you've ever tried yoga, you might also agree that it's a heck of a lot easier to keep your balance on the sand than a hardwood floor when you're trying to achieve the perfect asana, or pose. And then there are the instructors, who seem to blend into the beautiful early morning and sunset classes with a natural ease that extends to the participants and converges the classes into a communal experience whether you are experienced or a novice attempting to master the ultimate forward fold.
North or South Shore, you will most likely not need to look very far to find the perfect class on the beach. Those of you who already belong to a Yoga group are aware of this. Many studios now offer summer sessions on the shore and many more will be adding to that list. Here are some of the more noticed and notable:
Margate – Granville Ave. Beach                njyogazone.com
Long Beach Island – 26th ST. in Spray Beach        iwc.massagetherapy.com
Bay Head – Howe St. Beach                    therapeutictouch.com
Asbury Park – 4th Ave. Beach                yogabasin.com
Sea Isle City – JFK Boulevard Beach            njbeachyoga.com
Point Pleasant Beach – Inlet Beach at Jenk's North    bodyknowledge.us
North Cape May – David Douglas Memorial Park        yogacapemay.com
Manasquan – Inlet Beach, next to jetty            inletyoga.com
In a world where we have to deal with the rising costs of goods and services and college tuition FAFSA deadlines, cheating politicians, Parkway traffic and the everyday insanity that seems to wake us up every morning, I can think of no better way to begin each day than to rise to the soothing stretching on the sand.
Surf's up New Jersey. Namaste. Ease up on the hair gel.