Sushi came to America in the mid-60s, first hitting that large state on the opposing coast. It wasn't until the early 70s that this type of food began its popularity growth in our country; however, it was finding its appeal mostly among upper class citizens. It was a novelty among food connoisseurs. Besides, who dared to eat raw fish? Was it safe?
Today, in New Jersey, there is at least one restaurant serving sushi in most suburban towns. But in Ridgewood alone, I count 10 sushi restaurants. That's a 5.8-square-mile town. So the cuisine still must be a favorite among the higher economic class. We middle-class people love it too, and it's evidenced by the abundance of locations. You can find one in the mall, in the local business district, and a number of supermarkets, such as ShopRite of Paramus have their own sushi chefs serving packaged rolls. The kaiten style of serving sushi is popular among kids and those in a rush. A variety of plates of typically two pieces rotate on a conveyor system, and patrons can just grab what they like. The plates are tallied at the end of the meal. East in Teaneck is a prime example, and the international Japanese-brand restaurant, YO! Sushi just opened at the Garden State Plaza, also kaiten style.
It was around 1996 when I made my first foray into a sushi restaurant. I wasn't as exploratory with food as I am now, and my taste buds were still maturing. Arirang (now closed) was located in East Rutherford. My boyfriend – now husband – convinced me to try a "roll". Being protective of my stomach, I refused to try anything yet that wasn't cooked. So, of course, as most people do, I started with a California roll.
SIDEBAR: Yes, I mentioned that other state but with all due credit. It was invented in Los Angeles when a chef decided there was a need to substitute the seasonal fatty tuna that is traditionally in the maki roll. He used the avocado to imitate the texture of the tuna and then added the crab stick for a fish flavor.
Back to New Jersey. I couldn't possibly select one sushi restaurant to profile. There are so many good ones and even more just-average ones. Personally, I don't care for eating cold dinners in general, so I usually have sushi as an appetizer, a snack or a light dinner. After all, it can get quite costly for the amount of food you need to order to feel fulfilled. Here are just a few that I frequent in Northern NJ:
Nihon Kai, Bergenfield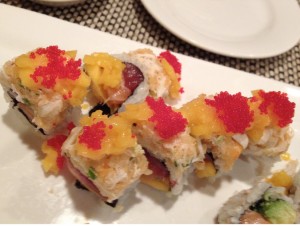 I wouldn't rate Nihon Kai in the top 10 of New Jersey sushi restaurants, but the fish is consistently good, and the chef gets an A+ for creativity. When you're sick of the usual Alaskan, Philadelphia and Boston rolls, check out some of his special rolls, such as the Sunshine Roll, consisting of tuna, salmon, mango rolled in seaweed, with shredded king crab, mango sauce, mayo and red tobiko on the outside.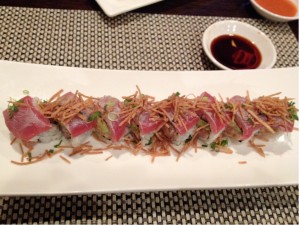 One of his latest specials is the Mounir Roll (he tends to name them after the customer who requests something different): spicy, crunchy yellowtail, avocado, chili pepper, masago on the inside, topped with seared tuna, scallion, potato crisps, and a spicy sauce on the side. It's a great play on texture.
Hachi, Fort Lee
The former owner of Nihon Kai, Mister Lee kept it in the family but opened his new place in Fort Lee's Linwood Plaza. While he tends to stick to some of the more traditional rolls, the quality of his sashimi is outstanding. The hot dishes and bento boxes are worth a try in combination with some sushi.
Here is a simply delicious spicy tuna inside/out roll wrapped in salmon, avocado and roe.
Wild Wasabi, Norwood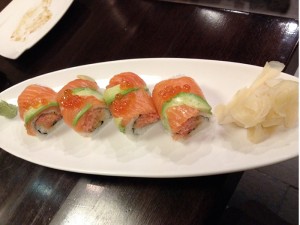 This is one of the high-quality fish establishments. You can feel it in the texture and taste the freshness. I'm always impressed when I watch the owner, "Young", clean the case at the end of the night, inspecting for any minute smudge. He may grumble if you ask for him to create something new, but then he can surprise with this spoonful of tuna tartar.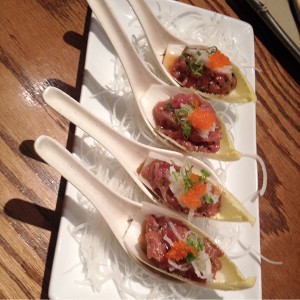 Don't count out some Chinese food restaurants either because some really great salmon sashimi can be found at Empire Hunan, Fair Lawn and Teaneck. Just remember: If it smells fishy, then something's probably wrong.
Evelyn Weiss Francisco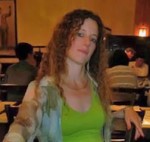 is a Foodie and blogger from the Garden State. Her Blog, "Dishing on Dining", has been running continuously since January of 2012. By day, Evelyn is a busy account executive with a Public Relations firm, by night, a writer with a passion for all things food related.