Starland Ballroom
The Rock Palace That Refuses To Die
By Victoria Corinne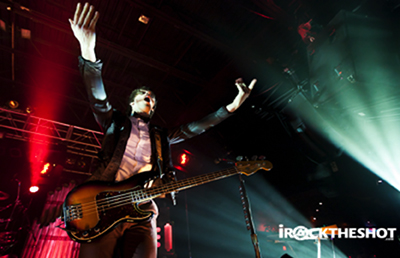 If you are looking for a new spot to catch some tunes, look no further New Jerseyans. Opening in the 1960's as the Jernee Mill Inn, it hosted bands like Peaches and Herb and The Brooklyn Bridge. Throughout the 80's and 90's some locals may remember it as the Hunka Bunka Ballroom, but these days' patrons know it as the Starland Ballroom. In late 2003, the dance-music club shut it's doors for a short while and later reopened as a main concert venue in Sayreville, New Jersey.
Ever since opening on December 7, 2003 with a special performance by David Lee Roth of Van Halen, the venue has seen the likes of many different musicians from many different genres. From Two Door Cinema Club, Coheed and Cambria, Taking Back Sunday, My Chemical Romance to Ziggy Marley, The Dropkick Murphy's, Ben Folds, The Doobie Brothers and hundreds of others; Starland always invites the best of the best to perform. Since opening, Starland has sold 1.5 million tickets, making it the hottest concert nightclub in Jersey.
Not only have concertgoers seen their favorite bands at the venue, but also an array of important people stop by from time to time. It is said that Jon Bon Jovi and Richie Sambora, hometown heroes and band mates, met in that exact building in the 1980's. Other celebrities and musicians who have been spotted visiting are Jersey Shore native Bruce Springsteen, Cameron Diaz, Artie Lang, Hilary Duff and more.
Two years ago to the day, Starland Ballroom was severely damaged by Hurricane Sandy. For 10 months, the venue was closed and since then has been completely redone and reopened. Not a portion of the building was spared thanks to the water from the South and Raritan rivers completely flooding the building and destroying the electrical system and damaging walls, flooring and plumbing. Water traveled up to the stage and the venue lost the majority of its equipment. From mid-November of 2012 to early September 2013, Starland was forced to close and cancel more than 40 shows, big and small. In June 2013, it was announced that the venue would reopen in September 2013 with a bang. Hurricane Sandy's wrath was indeed an ugly one, but with damage comes a rebuilding process and the Ballroom had a successful one. The inside was gutted, walls were torn down and many good changes came out of the destruction. Dressing rooms were updated, a new state of the art lighting and sound system was added, the fire/burglar alarm is new, the walls and floor are now padded with water resistant foam insulation and a new drainage system was installed outside.
Since reopening in 2013, Starland Ballroom has received positive remarks from bands, visitors and business's alike. The Stone Temple Pilots, including Point Pleasant raised brothers, Dean and Robert DeLeo, headlined and kicked off the reopening with a bang. Because of it's rockin' reputation and good vibes that the venue gives off, Starland came back bigger and better than ever before and we thank the music gods for that.
The Starland Ballroom is located at 570 Jernee Mill Rd in Sayreville, NJ.