For 16 days from late September to early October, Americans have an excuse to walk around outdoor festivals with king-sized mugs of beer in hand without being labeled as party animals – it's all in the name of Oktoberfest. New Jerseyans love to become pseudo-German for an excuse to revel in gluttonous amounts of liquid hops and stuff their bellies at this mostly carnivorous carnival.
One of the largest of these Munich reproductions I've seen in New Jersey is at Crystal Springs in Sussex County, rife with whole pigs, chickens and rabbits roasting on an open fire. There were a few German orchestras playing a mix of polkas and American standards and many people strolling comfortably wearing lederhosen and dierndls. For the non-meat eaters, there are slim pickings with brezel (large grilled pretzels), potato salad and potato pancakes. But there are fun traditional activities such as wood sawing competitions and dancing. Such festivities can be found all over New Jersey at: Schuetzen Park in North Bergen, Germania Park in Dover, Historic Smithville and Deutscher Club of Clark, as well as every restaurant that never served German food before.
Where does one sit down for a traditional German dinner when all this partying ends? Northern New Jersey had some popular Bavarian restaurants such as Blue Swan Inn in Rochelle Park, then the Casa Hofbräu in Emerson, then Triangle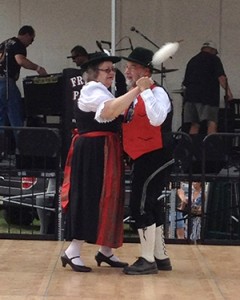 Hofbräu in Pequannock, but I'm biased because of the common chef and owner of the latter. Now, they're harder to find. Currently there is Black Forest Inn, Stanhope; Schneider's, Avon-by-the Sea; Helmer's, Hoboken; Kirker's, Hawthorne; among others. But the list is not overly long.
According to a 2000 data census, German is the largest ancestry in the U.S., heavily concentrated in the north/central states and east to PA, but there are still German communities, such as in Clark. So why so few restaurants? With some people turning away from heavy meats and the carb-elimination craze, it's no wonder that the meat and potato loving culture does not project a flowery image for those not familiar with the cuisine. Maybe that's why newer establishments such as Zeppelin Hall in Jersey City focus on the likeness of a beer hall with long shared tables to create an interactive, party atmosphere while eating less serious food like bratwurst and fish and chips and salads. Maybe they can help bring the attention back to German food by starting with the fun. The relocated Kocher's (to Fort Lee) is a German deli and butcher. You can try one of their own wursts (sausages) and eat outside on a nice day.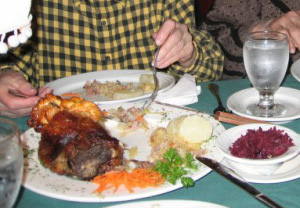 New Jersey has a little catching up to do to some fine German eateries across the bridge, but visit one of these, share a schweinshaxe (roasted ham hock) or rollmops (herring) or just some spätzle (noodles), grab a mug of Weissbier and toast the person sitting next to you on the bench – "Prost!"
Evelyn Weiss Francisco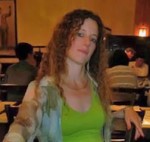 is a Foodie and blogger from the Garden State. Her Blog, "Dishing on Dining", has been running continuously since January of 2012. By day, Evelyn is a busy account executive with a Public Relations firm, by night, a writer with a passion for all things food related.