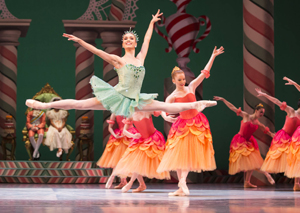 Every year around this time, my wife and I attend each and every one of our children's Christmas Pageants, Dance Recitals and Holiday Fairs. We reverently sit through any number of presentations of "A Christmas Carol."
There are times, I confess, that it all seems to blur together in a mish-mosh of musical numbers, Nativity scenes and endless cookie trays. There is one tradition, however, that we never seem to tire of. Although I have personally seen The Nutcracker at least three dozen times in my life, I never feel less than amazed at the pageantry and the perfection of this classic ballet. The music moves me and the movement of the dancers transports me to another time, when Christmas was simple and innocent. I'm not sure what does it for you, but if The Nutcracker is your thing, we have an array of venues to eNJoy this spectacle with some of the most talented dancers in the country.
Bergen Performing Arts Center December  2-3
Nothing says "holiday magic" better than the classic Nutcracker. New Jersey Ballet has been bringing this production to families for more decades. The troupe of professional dancers have all studied in the world's finest academies and toured on every continent. Audiences will be delighted when the theater lights go down and the magical toys come alive on stage.
Count Basie Theatre December 9-10
Every holiday season, the Company of Dance Arts has brought the magic of The Nutcracker to life at the Basie! Set to Tchaikovsky's stirring score, soloists from NYC ballet companies join the accomplished local dancers in the most popular ballet of all time. Youngsters as well as the young-at-heart will delight with Clara as she journeys with her Nutcracker through the Land of Snow and the Kingdom of Sweets to meet the Sugarplum Fairy.
Mayo Performing Arts Center December 8-10, 15-17, 22-24
New Jersey Ballet's Nutcracker at MPAC will feature the New Jersey Symphony Orchestra under the baton of Gary S. Fagin. When the curtain rises, audiences in Morristown can expect the eye-popping special effects, brilliant dancing, glorious costumes, and the magic and pantomime that has inspired critics to call it "A spectacle that never seems to age…magic that should go on and on," and "One of the best…as good as it gets." 
State Theatre December 15-17
The only American Repertory Ballet performances featuring a live orchestra and choir! American Repertory Ballet brings the beloved classic Nutcracker to the stage with Tchaikovsky's magnificent score, stunning sets, thrilling choreography, and a cast of more than 100 performers. A holiday tradition for more than 50 years, ARB's is one of the longest continuously running Nutcracker productions in the nation. Directed by Artistic Director Douglas Martin, ARB's professional company will be joined by select students from Princeton Ballet School to tell the story of a young girl named Clara and how a mysterious gift from her Uncle Drosselmeyer brings about enchanted dreams and fantastical scenes. ARB's Nutcracker is a perfect holiday treat for your entire family!