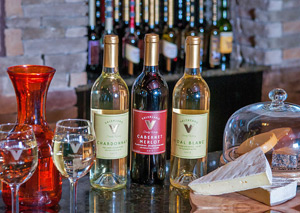 A few years ago, the editors of eNJoy took a road trip to the Valenzano Family Winery in Shamong to see the inner workings of a New Jersey vineyard. From the grapes growing in the fields to the process of distilling and bottling the many varieties of wine produced on site, it was an amazing experience. In our video this month you can experience all that for yourself.
Not to miss an opportunity to give back to the community, this month the winery is happy to present the Holly Jolly Weekend, where food, fun and wine come together to create yet another wonderful holiday memory for the locals and not-so-locals in the Garden State.
Why not eNJoy one last stop on your holiday trail? They'll be decking the halls and prepping the punch for a weekend of fresh baked Christmas sweets, holiday music and an array of artisan vendors who all hope to offer that perfect last minute addition to your list.
The festival begins at 11:00AM on Saturday, December 16 and runs until  5:00PM on Sunday, December 17.
If you are unfamiliar with this family owned and operated winery, here is a little background information for you:
Since 1996 when we made our first commercial batch of wine, our family has grown our passion into our livelihood.  Today, we are one of the east coast's largest wine producers, and many would say its most popular.  Our wines have won double gold medals from the Indy International Wine Competition, Fingerlakes International Wine Competition along with the NJ Governor's Cup and dozens of prestigious awards.  
Based in Shamong, New Jersey, in the center of the Pine Barrens, Valenzano Winery maintains 88 acres of farms where we proudly grow our vineyards.  We also look locally and nationally, sourcing the freshest and finest fruits imaginable to craft world-class wines that taste best when paired with the right foods and friends.
In 2006 Valenzano Winery became the first winery to win the coveted Governor's Cup Wine Award 2-years-in-a-row for the same varietal.  Valenzano Wines have been highly reviewed in the NY Times and by many national and local wine experts.  In 2010 Valenzano Winery hit its 10th year of a minimum of 50% growth.  In 2011 the winery produced and sold 88,000 gallons of wine which ranked them as the 2nd largest producer in New Jersey – quickly approaching the #1 spot.
When the shopping is done, the tree is trimmed, and the turkey has been ordered, it might just be time to kick back, relax and pamper yourself with a pat on the back for another year of good fortune, good cheer and good friends. We cannot think of a better way to do this than with a glass of wine in one of New Jersey's premiere wineries. Merry Christmas to all.
Saturday, December 16 – Sunday, December 17