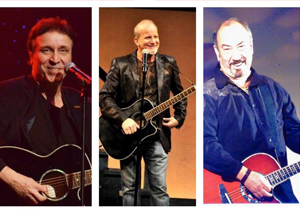 Once upon a time there was a girl named Comedy. Everyone loved her and she loved them right back. She was topical, silly, thought-provoking and sometimes irreverent. Then she met a boy named Rock, who was a bad boy in every sense of the word. He was loud and powerful one minute, yet sweet and mellow the next. And he had the power to move you. Their pairing was a match made in heaven. It is also a match that can be seen live and in person at the Music Box Theatre within the lovely confines of the Borgata Casino, as the G-STRINGS come to town. Has there ever been a better name to describe a night of rock & roll comedy?
The G-STRINGS are Dennis Blair, Paul Bond and Gary DeLena, three nationally known comics who have appeared on stages all over the world as well as TV and film. The "band" was the brainchild of Richie Minervini, the producer of the Borgata Comedy Club, which features the best of the best each and every week in Atlantic City. With his support, the lads came together last fall and completely obliterated the crowds with their song parodies and slapstick humor, earning standing ovations every night.
They are a modern musical Marx Brothers, covering every topic under the sun and lampooning music icons from past and present.
Taking the stage initially one by one, each performer gets to establish his own brand of comedy before they all come together at the end to deliver a ridiculous blend of musical styles from Crosby, Stills and Nash to Josh Groban, to the Beatles and ZZ Top, among others. You simply have to see it to believe it. All accomplished musicians who have also had successful musical careers, they cover legends from Bruno Mars to Elton John and The Boss.
MEET THE BAND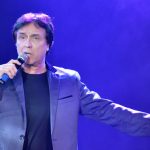 Dennis Blair
Opening act for George Carlin for twenty years, and Rodney Dangerfield before that. He also co-wrote and appeared in the film "Easy Money."
Dennis appeared on "The Tonight Show" several times. He won an Emmy Award for both writing and voiceovers for the animated film "Confessions of a Standup".
He has a book, "Me First", about his experiences opening for some of the most famous celebrities in show business.
He has released two standup comedy CD's, "Live Performance Anxiety", and "Words, Music and Drunks" as well as an album of original songs called "I Sleep
Naked in the Rain".
"He has the fastest comedy mind of anyone I ever met. If life is fair, he should make it big." – Rodney Dangerfield
"The only person who can make me belly-laugh." – George Carlin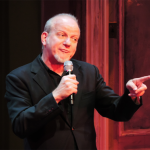 Paul Bond
Observational, iconoclastic and joyfully angry, mirth maker Paul Bond takes traditional stand-up and infuses it with incredible energy, empathy and song.
Awestruck audiences will appreciate how much laughter can come from a simple guitar.
Comedian Paul Bond's talents have been seen on television's Stand Up Spotlight (VH1) as well as in a video shown on Saturday Night Live (NBC).  Bond has also been heard numerous times on radio's Opie and Anthony show (Sirius XM).
He has performed at many of the nation's best venues such as New York City's famous Caroline's and Dangerfield's, Atlantic City's prestigious Borgata Hotel, Las Vegas' legendary Riviera Hotel and Los Angeles' renowned Hard Rock Cafe.
Bond has "opened" for comedians Jackie Mason, Jim Brewer, Bobcat Goldthwait and musical group Hootie and the Blowfish.
Gary DeLena
A radio favorite with his song parodies and impressions, Gary ruled the morning airwaves in New York City with WNEW-FM, spending studio time with Dennis Elsas, Pete Fornatele, Mark McEwen and the legendary Scott Muny. Performances all across the USA followed as he brought his brand of Rock and Roll Comedy to Atlantic City and Las Vegas, LA and London, as well as appearances on HBO, Showtime, Comedy Central and MTV. He was also a writer for Nickelodeon's "Family Double Dare," MTV's "Turn It Up" and "Caroline's Comedy Hour" on A&E.
"Mr. DeLena, who resembles Bert Lahr (the Cowardly Lion), but has the rubbery limbs of Ray Bolger (the Scarecrow), danced, played the guitar and charmed with his parodies of rock songs and pop singers." – The New York Times
"Gary DeLena is one of any three people on stage at any given time." – Philadelphia Enquirer.
"Being funny comes naturally to comedian Gary DeLena." – Variety
Individually funny, awesome together. See them now and later say, "Yes, I was there at he beginning."
BONUS!
The G-STRINGS will also be making a special appearance at the Stress Factory in New Brunswick. 
May 21-24, 26         Music Box Theatre, the Borgata, Atlantic City
May 25                  Stress Factory, New Brunswick
www.theborgata.com
www.stressfactory.com
www.dennisblair.com
www.comedyontheroad.com
www.garydelena.com