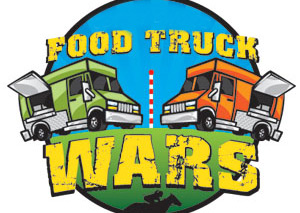 Are you tired of watching TV series featuring:
Doctors
Lawyers
Cops
Dancing with Has-Beens
Bill O'Reilly?
Then my friends, there might just be an off-the-beaten-path type of television program for you. It airs on the Food Network (Yes, Food has it's own network. Like Oprah. Or Donald Trump). It's called…wait for it…"The Great Food Truck Race."
Like everyone else in America when we first heard the concept, our heads all tilted to the side like that old RCA dog. What…?
It's actually genius. We all love food trucks. Now, now… you're saying, "Not ME. I would never eat from one of those mobile munch machines!" But we do. The thing is about Food Trucks, as you can see on TV every week, is that they have changed. Don't get me wrong, I still love the Food Trucks of my youth: the "grease trucks" at Rutgers, the lunch wagon at the docks in Newark where I worked during my summer college breaks, the caterer on the TV and movie sets in Hollywood where I did bit parts as a young actor (mmmmmm, breakfast burritos) and the hot dog trucks on almost any road in Anytown, New Jersey. But in this day and age, people expect and want more. We crave variety and in New Jersey, you can get it. Gourmet Food Trucks are all the rage these days. In New Jersey you might be able to feast in any one of these moveable feasts:
Nomad Pizza – Authentic Naples-style pizza baked in wood-burning oven. Available for private affairs and seen at many NJ festivals. _ www.nomadpizzaco.com
The Cinnamon Snail – Vegan and Organic Cuisine. Thursday – Saturday in Hoboken. Red Bank Farmer's Market on Sunday. _ www.cinnamonsnail.com
Taqueria Autentica – Tacos and Quesadillas with quality ingredients and authentic flavors. Look for it at the Gateway Center in Newark on weekdays. _ www.taqueriaautentica.com
Hotbox – Approachable, creative fare from tacos to handmade pasta. Long Valley area through Labor Day. _ www.hotboxfoodtruck.com
Chow Haul – Upscale comfort food such as chicken schnitzel on mescalun and meatloaf baked in muffin tins. Long Branch area.  _ www.chowhaultruck.com
And now for the capper. Since we all love to play favorites and boast that we know the best Food Truck in the state, the state and more specifically, Monmouth Park Racetrack is giving us an opportunity to put our money literally where are mouth is. The Great Food Truck War is coming to Oceanport on May 27. The finest in mobile dining will be on display and in competition for all to eNJoy. Vote on your favorite and relax with the rest of the day's treats, like live music, pony rides and face painting for the kids and the chance to win some big prizes. Sounds like a plan. Personally, I'd be happy to be eating one of Rico's famous Food Truck Fajitas in Burbank. Mmmmmm…