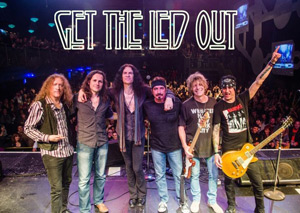 OK, I confess. I'm old, a child of the 50's, whose devotion to and love of pop music is legendary among my family, friends and associates. Hendrix and Cream at the Fillmore in the East Village, The Grateful Dead at Roosevelt Stadium in Jersey City, Led Zeppelin and Joe Cocker at Asbury Park Convention Hall. Second row!!!!!! I consider myself blessed by the gods of rock and roll. I've seen 'em all. But what if I hadn't? What if my window of opportunity closed and the groups were disbanded, artists retired, or just, you know…dead!? What indeed?
That question has spawned an entire industry, one which attracts audiences in droves and makes money by the truckload. And bottom line…some of these tribute bands are good. Damn good. Here's a look at the top notch shows you wanna catch this month in the Groovy State. Don't miss them too!
Get the Led Out
Led Zeppelin Show
April 14
Mayo Performing Arts Center, Morristown
www.mayoarts.org
Dubbed by the media as "The American Led Zeppelin," Get The Led Out offers a strong focus on the early years. They also touch on the deeper cuts that were seldom, if ever heard in concert. GTLO also include a special "acoustic set" with Zep favorites such as "Tangerine" and the "Battle of Evermore" being performed in its' original instrumentation.
Rain
The Broadway Tribute to the Beatles
April 15 Count Basie Theatre, Red Bank
www.countbasietheatre.org
This mind blowing performance takes you back in time with the legendary foursome delivering a note-for-note theatrical event that is the next best thing to seeing the Beatles. Experience the worlds' most iconic band and come celebrate 50 years of Sgt Pepper's Lonely Hearts Club Band.
The Purple Experience
Prince Tribute
April 20 Harrah's, Atlantic City
www.caesars.com/harrahs-ac
The band embodies the spirit and sounds of Prince, with front-man Marshall Charloff channeling the vocals and movements from the icon himself.
The Music of All Five Traveling Willburys
April 22 Count Basie Theatre, Red Bank
www.countbasietheatre.org
Bobby Bandiera's Jersey Shore Rock n' Soul Revue returns to the Basie with THE MUSIC OF THE TRAVELING WILBURYS, an all-star evening of music from the iconic super group's two albums, plus songs from its individual stars – ELO's Jeff Lynne, Tom Petty, Roy Orbison, Bob Dylan and George Harrison.
Lotus Lush
Tribute to Rush
April 22 Resorts, Atlantic City
www.resortsac.com
With an unparalleled performance, The American RUSH Tribute Lotus Land brings the force of live Rush to life on stage. Enjoyed by die-hard Rush fans, musicians and casual music listeners alike, the Lotus Land experience has been heralded as the ultimate celebration of RUSH's musical craftsmanship and spirited performances.