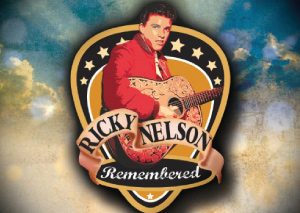 I have a pretty good idea most people have heard, or heard of Ricky Nelson. The teen idol turned country singing star, who left behind a legacy of television and music, died tragically in a plane crash as did a few of his peers, rock and roll pioneers Buddy Holly, The Big Bopper and Richie Valens. He was the clean-cut all American boy we watched grow up on TV as a member of the Nelson family on their early '60's show, "The Adventures of Ozzy and Harriet." Ozzy (the Rutgers graduate not the crazy reality show dad who bites the heads off of bats) was the leader of the perfect family which consisted of himself, wife Harriet and sons David and Ricky. Grown women will look back on this show and remember Rick, the youner son, as the cute-dreamy heartthrob who closed every weekly episode with a song. He would pick up his acoustic guitar and look into the camera, eyes half closed, and charm the daylights out of every teen girl in the USA. And their moms! Honestly, he got to me too, but in a different way. I remember thinking, even as a child, "Wow. What a great way to get girls!" And you know, it worked!
The songs live on…Travellin' Man, Hello Mary Lou, Fools Rush In, and many more hits from the early '60's. These songs all had an undercurrent of country and western in them, evident in the writing and predating the huge C & W boom that was to happen a decade later. His song "Garden Party" has become a classic, as it channels his frustrations in trying to make the leap from Teen TV Idol to legitimate country singer. He certainly wanted to be taken seriously and his music bore out the fact that he absolutely was!
Fast forward to the present, where another two brothers are making music together.
Matthew and Gunnar, Ricky's twin sons with wife, actress Kristen Nelson, are now touring with the music of their father. And they will offer you the opportunity to partake of this experience right here in Millville at the Levoy Theatre on August 10.
The official press release:
"RICKY NELSON REMEMBERED" is a unique multimedia entertainment event featuring the live music of Ricky Nelson's hit songs (including "Hello Mary Lou", "Travelin'Man", "Garden Party") performed by Ricky's own twin sons Matthew & Gunnnar and includes never before seen big screen video footage of the NELSON family with interviews from celebrities influenced by Ricky Nelson. The show appeals to a wide audience and multiple generations and celebrates the life of America's original 'Teen Idol'.
Works for me. I have no problem going back to a time where families ate breakfast together, dad was a hapless bumbler, mom ruled the roost and boys were boys, not a Pokemon Go in sight.
August 10
Levoy Theatre, Millville
www.levoy.net