New Jersey loves pizza and has not only the most pizza places per capita, but probably the biggest variety and some of the best in the U.S. Those are some bold statements, and maybe a little speculation, but how many pizzerias are located in your town, not to mention eateries that serve pizza? A one-square mile town like Rochelle Park has three plus Woodstone Pizza Bar & Grill! Maywood, nearly as small, has two on the same street, and both do very well.
When it comes to pizza for New Jerseyans, everyone has their go-to spot, and it's hard to argue about the best pizza. If the ingredients are fresh, the sauce is made on-premise, and the crust passes the crispy test, then the game is on for a close race.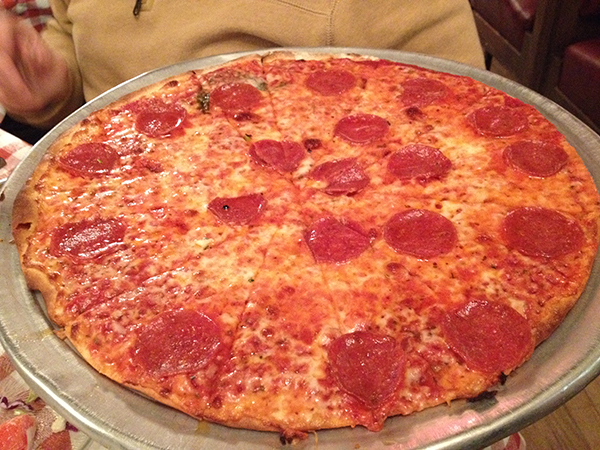 Most times – not that I eat pizza that ofen (maybe once ever few months) – I prefer thin-crust, but no so thin that it tastes like crunchy paper..no flavor. There's a place in Ramsey that most people in Bergen County already know: Kinchley's. And whoever doesn't know it, just doesn't want to travel outside a one-mile radius for pizza, which is understandable for takeout. But Kinchley's is a place to go out for pizza. The establishment has been around since 1937, and what goes better with pizza than beer, which they provide, having a full bar. The best drink with pizza for me is birch beer: They have that too!
The place looks old – wooden floor, red-and-white checkered picnic table coverings, a train collection in a glass case, and a giant horse on the roof. I have no explanation. Kinchley's has a full menu for anyone that would be silly enough to order something besides what they do best there – thin crust pizza! If you order a house salad to combat a little food guilt, it's enough for two, topped with roasted peppers, olives, onion, tomato, cucumber, bell pepper and choice of dressing.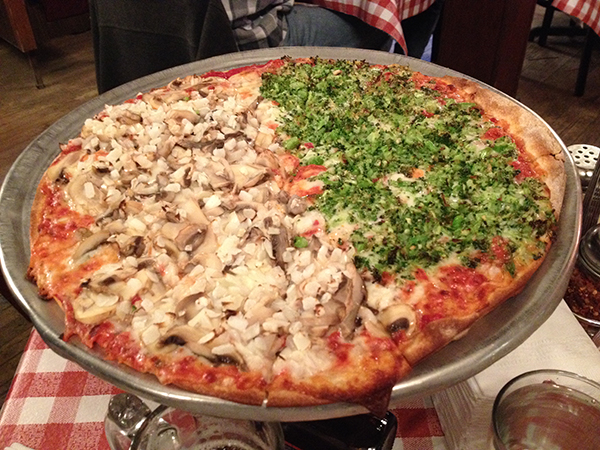 There's always a wait for a table or booth during prime times, but try it once. It's justified being present on almost every list of "Best Pizza in New Jersey". If you're more a fan of thicker crust with some nice crumbly toasted bubbles, try Brooklyn's Pizzeria, not in Brooklyn of course, but any of the NJ locations: Hackensack, Ridgewood or Edgewater. This coal-burning brick oven pizzeria started in the 30s as well but was only brought to New Jersey in 1993. I suggest eating-in here as well. The biggest attraction for me is the slices of fresh mozzarella and freshly chopped basil used on each pie….what a difference!
Evelyn Weiss Francisco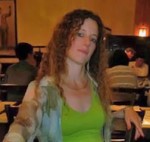 is a Foodie and blogger from the Garden State. Her Blog, "Dishing on Dining", has been running continuously since January of 2012. By day, Evelyn is a busy account executive with a Public Relations firm, by night, a writer with a passion for all things food related.