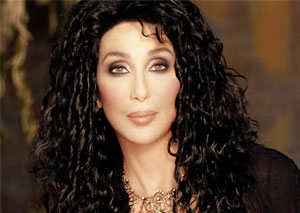 The name conjures up images that stretch back into the 60's, when she graced the TV airwaves as part of the iconic Sonny and Cher series on CBS. She was funny, smart, talented, and in those days, more of a second fiddle (for lack of a better phrase) to her tiny little yet oddly powerful hubby. Well, THAT certainly changed. Her Oscar-winning performance in Moonstruck caught no one by surprise. She has a charisma that crosses all socio-economic backgrounds and is beloved by soccer moms and the LGBT community alike. Her wardrobe defies convention and features more feathers than an emu ranch. She is one of a kind and her concerts have been huge sell-out successes all over the world. And now she's baaaack!
Cher's "D2K Tour" 49 city North American Tour will stop at the IZOD Center on May 10th with Special Guest Cyndi Lauper.  Cher's previous tour "The Farewell Tour" later dubbed "The Never Can Say Goodbye Tour" was one of the most successful tours ever by a solo artist and played for a record-breaking 325 dates and seen by over 5.5 million people. Cher said she is thrilled to have the Tony award winning Kinky Boots composer and charismatic performer back on the road with her. Lauper previously performed over a hundred shows during CHER's Believe Tour, Living Proof Tour and The Farewell Tour.
Cher's current single "Take It Like A Man" is currently No. 2 on the Billboard Dance Charts and follows "Woman's World" which topped the Dance Charts at No. 1. Both are from her critically acclaimed "Closer To The Truth" CD which debuted on the Billboard Pop Charts at No. 3.
Cher and Cyndi Lauper. How much estrogen can you handle? There is virtually no way you will be bored at this show. You may be shocked, amused, or even rattled, but you can never be blasé at a Cher Concert. Girls just wanna have fun? You betcha!
May 10
7:30PM
Izod Center
www.meadowlands.com