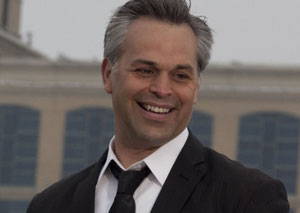 As many of you may already know, I spend my nights away from the computer keyboard, where as editor of www.eNJoynj.com I write the various articles that appear monthly on our fabulously successful website. It is no secret that I "moonlight" as a comedian, performing all over the world and here in my own backyard as well. Last month I had the honor of appearing at the Comedy Stop Café and Cabaret at the Tropicana in Atlantic City. The shows went great and the audiences were spectacular. But it was before my show began that I noticed a packed venue with hundreds of laughing, screaming adults and children of all shapes, sizes, nationalities and religions just reveling in the antics of the performer on the same stage that I would be standing on a hour later. Ladies and gentlemen, allow me to introduce New Jersey's next big star – Joe Holiday. Magic Man.
Joe Holiday is an award winning magician who has been working in the entertainment industry for over twenty years. Making hundreds of performances yearly for thousands of audiences all over the world.  From Singapore and Seoul South Korea to the casino's of his hometown in Atlantic City, where Joe has been a featured performer at both the Trump Plaza and Showboat Casino Hotels.
Joe has appeared on international television and was the featured guest star in Harary's multi-million dollar Illusion show "Mega Magic".  The summer long run was seen by over a million people throughout Asia.  Headlining on major cruise ships and appearing for corporate companies such as, KPMG, Bradley Caldwell Inc., The Trump Organization and Optaros Ecommerce solutions company. Amusement Parks such as Famtasy Island in Beach Haven and Kennywood Park in Pittsburgh Pennsylvania and Six Flags American in Largo Maryland have all repeatedly book Joe for several seasons to entertain their guests with his "Family Friendly" approach to magic and comedy.
In 2009 Joe had the honor and privilege to make several performances in Seoul South Korea for our men and women stationed on US military bases overseas with his full Illusion show.
And now he's home, making a major name for himself in Atlantic City.
This high-energy magic show contains outstanding feats of magic, audience participation, popular music and laugh out loud comedy!  Joe Holiday will transform a young audience member into today's most famous magician, Harry Potter, read the minds of audience members and perform sleight of hand miracles right before your eyes!
A dinner show package is available in the Comedy Stop, just ask the box office when making your reservations.
One Show nightly at 6:30pm every night except Wednesdays.
Don't miss Atlantic City's BEST NEW magic show. I cannot say it enough. This is one of thee best family shows anywhere. Thankfully, it's right here in New Jersey. eNJoy.