(SHE'S MY FAVORITE GIRL)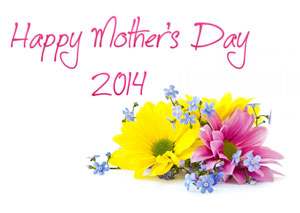 As the expression goes, you only get one. Mother, that is. The single most important woman in all our lives. Carried us for 9 months, fed us, bathed us, rocked us, and gave us not only the gift of life but also the promise of where that life might lead us. How in the world do you say thank you? A card? A sweater? A home-made macaroni picture frame? Where can you take her that she hasn't already been? What can you show her that she hasn't already seen? Ah, what to do, what to do…
The end result doesn't really matter because as your mother, she will love and appreciate whatever you do, because after all, you're still her baby.
So here at eNJoynj.com we have looked at the traditional, the offbeat, and the heartfelt ways you can spend that most special of days. One size does not fit all.
Annual Atlantic City Mothers Day Music Festival
Saturday, May 10, 2014, 7pm – 10:30pm
Boardwalk Hall
Atlantic City, NJ
Information and Tickets

Atlantic City's historic venue, the renovated Boardwalk Hall, features the Mother's Day Music Fest, one of the most popular R & B events of the year. This years event will include performers celebrated soul and R&B artists Charlie Wilson, Gladys Knight and Heads of State featuring Bobby Brown, Johnny Gill and Ralph Tresvant.
Mother's Day Hike

May 11, 2014, 10:00 am until 12:00 pm
Tenafly Nature Center
313 Hudson Avenue
Tenafly, NJ
Website
Celebrate Mother's Day with a guided walk outdoors. Whether you're an outdoors enthusiast or just hoping for a pretty photo op with the family, a walk might be the perfect activity for Mother's Day. All ages welcome. In case of inclement weather the program will be cancelled. No strollers please.
Mother's Day Lunch Cruises on the Hudson
Sunday May 11, 2014
Spirit of New Jersey
1500 Harbor Boulevard
Lincoln Harbor Marina
Weehawken, New Jersey 07086
866-483-3866
Website 

Give Mom the day off and treat her to a special day full of festivities and fun aboard Spirit! With a bountiful buffet, interactive DJ entertainment, dancing and spectacular Manhattan skyline views, 
Lunch Cruise: 
11:30 AM Cruises 12:00 PM – 2:00 PM 
Early Dinner Cruise
Boards 4:00 PM Cruises 4:30 PM – 6:30 PM Departs From Lincoln Harbor.
Mothers Day at Jenkinson's

Sunday – May 11 , 2014
300 Ocean Ave
Point Pleasant Beach
732.892.0600
All day on Mother's Day, Sunday, moms get free admission to rides, the aquarium, fun house, and mini golf with a paying child. The perfect spring day for mothers and children to enjoy together at the boardwalk!
Annual Azalea Festival

Sayen Park Botanical Garden
155 Hughes Drive
Hamilton Square
Hamilton Township, NJ
(609) 890-3874
Website
Held only on Mother's Day each year. This event takes place in the historic Hamilton Square, Sayen House and Gardens, a sanctuary for nature lovers, garden enthusiasts and history buffs alike. The Sayen House is open to the public from 10AM to 4PM. Held Rain or Shine.
Whatever you choose to do on this special day, we here at eNJoynj.com want to wish our "Jersey Girl Moms" a very happy day.