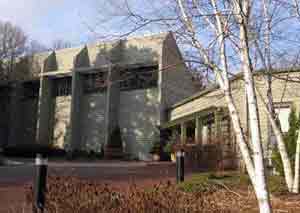 Lovers of fine art who live in South Jersey need not drive into Philadelphia to quench their artistic thirst for exhibitions and educational programs. Celebrating their 30th anniversary this year, the Oceanville facility welcomes you to eNJoy the works of local, regional and statewide artisans featuring fine art, crafts and folk art with an emphasis on New Jersey and Mid-Atlantic areas. Situated in a beautiful lakeside setting next to the Edwin B. Forsythe National Wildlife Refuge, it is close to Atlantic City and Historic Smithville Village.
This month The Noyes Museum of Art of the Richard Stockton College of New Jersey will host an Annual Benefit Gala on September 21st, which will feature an incredible art auction, illustrator Earl B. Lewis and sculpture Roger Wing demonstrating their skills on site and offering up their work at the end of the evening. There will be a book signing by author Judy Courter, the historian who has chronicled the lives of Fred and Ethel Noyes (NOT Fred and Ethel Mertz), who are responsible for this amazing museum. There will be food, wine, craft beer and entertainment as well.
Also highlighted this month are the works of founder Fred Noyes, Margery Amdur, the oil paintings of Victor Grasso and a large scale hanging piece constructed of thousands of library card catalogue entries. Signature Artists will also be on display, featuring the likes of Alex Alampi, Geoffrey Argons, Bette Blank, Zenner Broomer, W. Carl Burger, Matt Burton, Alice McEnerney Cook and Charles Chirico and many others whose work has graces the exhibits of galleries all across the United States but call Noyes home.
The Noyes Museum of Art also features educational programs for young and old alike. Classes like Shorebird Decoy Carving, Jewelry Making, No Sweat Yoga and a Figure Drawing and Painting marathon will be presented as well as a Young at Heart Gallery featuring the art of home schooled students.
A full slate in the Garden State is well within reach. eNJoy.
www.noyesmuseum.org