Hi, friends, and fellow gardeners. I hope you are all having a great growing season. So far, we are in the "New Jersey Monsoon Season", as one of my clients, Tanya V. puts it. We started off with a bit of a drought, and now we have lots of unstable weather, with the forecasts changing by the hour. It has been very hard to schedule Construction, and planting projects with such strange weather- almost with tropic volatility at times.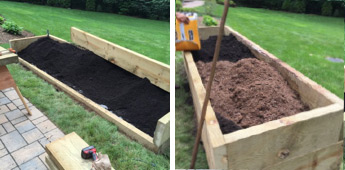 One of my recent projects is a raised bed garden planter for my client Jane. I was able to talk her into starting a small vegetable garden 2 years back, and she loved it so much that I had to build her an expanded area to give more growing room for her crops. We used 3" X 12" rough sawn timbers in a 12' length, and made the box 3-1/2' wide. A gravel base is covered by filter fabric, and then filled 2/3 full with compost soil. Several bales of a greenhouse grade professional soil mix is then hand blended to establish the final grade. We will follow the guidelines for the square foot gardening protocols as closely as possible.
The next phase of this project will be to critter-proof the planter with various materials such as bird netting, and perhaps shade cloth on some of the side panels. I am designing a pergola-style top to create an architectural element for this fine property.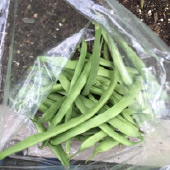 Recent harvests at another client's home have yielded some nice results from square foot gardening techniques. Harvesting the Basil just last week really made my mouth water.
I also like to try fig trees in planters that can be brought indoors for the winter, and even have some dwarf Lemon trees in some of my outdoor gardening accounts for fun and interest in the garden. I am trying the (improved) Meyer Hybrid Lemon this season, and curiously, my nurseryman was not able to tell me anything about it. It has fruited once sparingly, and bloomed again.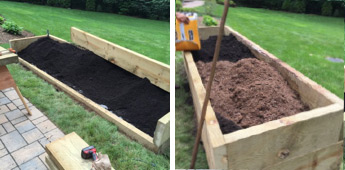 I like to also grow some cutting flowers in my vegetable gardens, such as Liatris, Asiatic Lilies, Dahlias, and other long-lasting blooms. I have had cut Dahlias bloom for over 2 weeks in vases in my home. When I harvest vegetables, I automatically think of what flowers would go well with dinner on the table.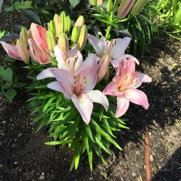 Gladiolas are wonderful too, and I have found that the red color seems to last the longer of the colors. Do not put them in too much water after cutting, as they can drink themselves to death, shortening their cut lifespan. 2" of water in a vase is sufficient
Water –wise:
Friends, let's remember to turn off water spigots when we are not using them. The compounded problem of wasting water is worsened by the water that seeps down into the basement, or under your home. The fact that we are not presently in drought may only be temporary. Let's conserve as much water as we can while we can. I still recommend using water retention vessels on downspouts when possible.
Also, let's use leaker hoses to conserve water in our garden and shrub beds. When I install a summer planting, I always lay a leaker hose down after final grading the shrub bed, then mulch on top of the leaker hose. Doing this conceals the unattractive appearance of the hose, and optimizes the watering process. Please refer to my past article on this site-"Water 101", (May 2014),for more water tips and ideas.
Written By: Everett Fink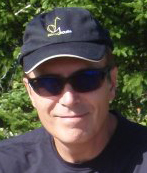 Everett Fink is a Certified Rutgers Master Gardener, Certified Pesticide applicator, and N.J. State licensed Home Improvement Contractor. Everett was designated Top Tier Designer at Sponzilli Landscape, and currently Owns Property Details LLC, in New Jersey.