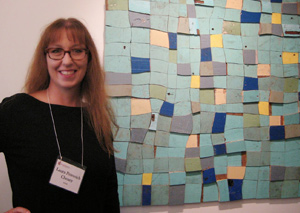 The image of a phoenix rising from the ashes is nothing new and has been immortalized throughout both history and literature. While it is not a uniquely American tradition, the resilience of our citizens has been documented time and time again, following such tragedies as The Oklahoma City bombing, the many senseless shootings that occur randomly across the nation, and near and dear to our hearts, 9/11. One singular occurrence that has fairly recently given New Jerseyans a cause to rally around was an event not caused by the indifference or inhumanity of man, but of the all-powerful force of nature – Hurricane Sandy. And once again, we give the special individual the opportunity to create a positive from what was a true negative.
Here at eNJoynj.com we take great measures to focus on not only what is happening across our state but also to shine a light on local residents who fit that very hallowed criteria. And so it is that this month we are showcasing one such person. Her name is Laura Petrovich-Cheney and she has taken wreckage and remains of Hurricane Sandy's devastation and turned them into art.
Her latest exhibition, "By the Block," is currently on display at the James Howe Gallery at Kean University in Union. The exhibit showcases bright, three-dimensional, quilt-like works crafted from bits of wood salvaged from the ruins of Sandy's landfall.
"By the Block" combines Petrovich-Cheney's love of found wood—her preferred sculpting medium—with her passion for quilting, a lifelong hobby. Haddonfield, her hometown, has a strong quilting tradition dating back to its days as a stop on the Underground Railroad. "Patchwork quilts are a very feminine art," says Petrovich-Cheney, who, "as a woman in a woodshop," strives to evoke femininity in her work. She compares repurposing Sandy's discarded wood to the tradition of stitching secret messages (known as quilt codes): each of her quilts tells its own story of the Shore and survival.
"My work mirrors the human experience, so full of transformation, second chances, reinvention and resilience," says Petrovich-Cheney, whose parents live on Pelican Island, a small Toms River community on Barnegat Bay. They lost more than half of their home to the storm. After the surge receded, the National Guard allowed the artist on the island along with the other residents. Driving around in a pickup truck, Petrovich-Cheney foraged the devastation for colorful remains of once-picturesque beach homes, from shutters to kitchen cabinets.
"The quantity of waste was unbelievable," Petrovich-Cheney says. When she explained her vision, the owners of the scraps were glad to see them in her hands. "They were very open to it continuing on as something else, instead of just sitting in a garbage heap."

Laura Petrovich-Cheney has had solo shows at the A.I.R. Gallery in Brooklyn and The Abington Art Center outside Philadelphia as well as various group shows including the George Segall Gallery (Montclair, NJ), Monmouth Museum (Lincroft, NJ), Delaware Art Museum (Wilmington, DE) and the New Hope Arts Center  (New Hope, PA.) She has received a grant from The Dodge Foundation and awards from the National Art Education Association, the Council for Art Education, National Academy of Art and the New Jersey State Department of Education. In the fall of 2013, she participated in a residency to the Arctic Circle and she was selected a 2013-14 A.I.R. Gallery Fellow. Laura Petrovich-Cheney graduated with a BA from Dickinson College, MS from Drexel University and an MFA from Moore College of Art & Design. In addition, she is a National Board Certified Art Educator working with children from kindergarten to middle school. She presents lectures on art education nationally. She maintains a blog on her art practice and writes reviews of art exhibits in the tri-state area.