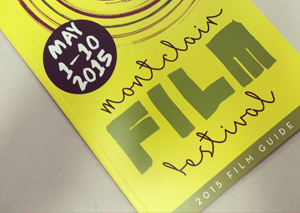 There are two schools of thought when it comes to cinema. There are the movie-goers who await blockbuster mega-summer tent pole extravaganzas like "Avengers:Age of Ultron" and "Jurassic World" and "Ant Man" and the next installment of "Mission Impossible" where Tom Cruise tries to explain Scientology to farmers in Ohio. Then there are the elitists, the documentary-loving, artistic content, film-noir and foreign-language-loving denizens of the back alleys of Prague, the bungalows of Hollywood or the streets of Lower Manhattan. And no, they don't eat popcorn. They are as opposite as the Yankees and Mets, lasagna and gluten-free waffles, Bruce Jenner and Bruce Jenner.
In order to bridge the gap and have an audience eNJoy film, cinema, or movies as a collective shared experience, you must first have a venue or series of venues that thrive in an artistic yet unstuffy environment. Welcome to the town of Montclair, a community well versed in the arts and home to a university that is a major force in education and entertainment. Next it's time to bring in a leader, found in the person of Tom Hall, who comes to New Jersey after successfully guiding the Sarasota Film Festival for years. Then a panel of celebrities and filmmakers and writers must come and add luster to the experience. In that respect…mission accomplished.
The 2015 Montclair Film Festival Conversation Series Presented by Audible
Hunger & Homelessness in Montclair
Saturday, May 2nd 10:00 AM The Audible Listening Lounge
Moderated by: Steve Adubato, Emmy Award winning broadcaster (WNET/ NJTV) and Author
Black Voices In Film
Saturday, May 2nd
12:00 PM
The Audible Listening Lounge
Moderated by: Professor Sultan Sharrief (Writer/ Director, BILAL'S STAND)
In Conversation With Richard Gere

Saturday, May 2nd
2:00 PM
The Wellmont
Moderated by: Stephen Colbert
How To Be Amazing with Michael Ian Black
 and Bobcat Goldthwait

Sunday, May 3rd
7:30 PM
The Montclair Art Museum
In Conversation With
The National Lampoon
Saturday, May 9th
2:00 PM
The Audible Listening Lounge
In Conversation With Jonathan Demme
Saturday, May 9th
2:00 PM
MKA Upper School
Then there are the films, which are far too numerous to even begin to list here. Suffice it to say that the world is represented with works of fiction, fantasy and fact-filled films. The audiences will be entertained by not only cinema's most renowned and prolific directors but also by some of the home-grown rising stars of the New Jersey film community, which will include a lively series called "Kidz Shortz."
The 10-day festival which bills itself as "It's Sundance, only Jersier," has serious roots in New Jersey and takes its mission statement seriously:
* To provide a platform for filmmakers from New Jersey, US and the world;
* Host a series of affordable film-related events throughout the year that brings together and inspire families, students and community and business leaders;
* Advocate for and support local Montclair businesses and create needed development and sponsorship opportunities for the community;
* Develop year round educational outreach, to inspire learning and expand the knowledge of cinema and the appreciation of the film making process.
So OK, maybe it's not "Magic Mike XXL" or a "Poltergeist" reboot (as if we really needed one).
This is why young men and women went into the movie business: To entertain with a wide range of cinematic choices and to share something. The true joy is that for every individual, the experience can be unique, personal and rewarding. Not a bad way to spend a week or so.