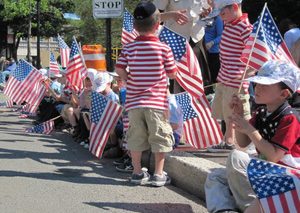 It is the opening weekend of summer, and after the winter we had, it cannot come soon enough. You already have the calendar marked, probably in big, bold letters, maybe even in red ink. May 22-25. By all means, get out there and eNJoy it. Grill, swim, hike, sunbathe, bicycle, sail and surf. Do it all and don't miss a thing. You know why? Because you deserve it New Jersey. In this state, we work hard and we play hard. You give it everything you've got. And that defines our residents to a T.
But before we head home, tired, fulfilled and sunburned, let's take a moment to reflect on those who really gave it everything they had – our fallen servicemen and women, out mothers, fathers, brothers and sisters, sons and daughters, the ones who take an oath to defend the rest of us. It seems to me that recognizing and celebrating them would be the classy and honorable thing to do. And fortunately, there are no shortages of ways to do this, and close to home as well.
2015 New Jersey Memorial Day Weekend Events and Parades
Medford – Celebrate Memorial day with firetrucks, and high school marching bands! Complete with a 21-gun salute and flag-raising. Parade begins 11 am, on Monday, May 25th at Memorial Middle School on Mill Street and ends at Main Street.
Bradley Beach Parade & Festival
Saturday, May 23 – Sunday, May 24, & Monday, May 25, 2015
The Annual Memorial Day Parade will start Saturday, May 23th at 10am on Ocean Avenue and Bradley Blvd.  The parade is the "kick off" for The Memorial Day Weekend Festival held on Saturday, Sunday and Monday. Food, craft vendors and activities for everyone at the beachfront. The annual parade features several local school marching bands, pipe bands from around the state.
Princeton –   Memorial Day Parade takes place on Saturday May 23rd. The parade kicks off at 10am from Princeton Ave and Nassau St , then on to Princeton Boro Hall ending with a ceremony at Boro Hall at 11am.
Metuchen Parade & Ceremony – The parade begins on Monday, May 25th, at 10:00 a.m. – Noon. rain or shine, from Metuchen's Pearl Street parking lot.  It will proceed across Center St., turn right (north) onto Route 27, and right onto Main Street.  The parade will continue through the tree-lined streets of beautiful Metuchen and turn right onto High Street and then right again onto Lake Avenue where it will end at Memorial Park with a brief ceremony.
Livingston – This year's Memorial Day Parade will start at 9:30am, Monday, May 25th, with a ceremonial service at the Oval to commemorate those who have died defending the United States. At 10am after the ceremony, the parade will start on S. Livingston Avenue and will end at Congressional Way. In the event of inclement weather the Ceremonial Service will be held at the LHS Auditorium.
Freehold – The 141st Freehold Memorial Day Parade will be held Monday, May 25th. The parade kicks off at Brinckerhoff and Main Streets at 10 am. The Freehold Memorial Day Parade is the oldest and largest such parade in Western Monmouth County, with an average of more than 70 units participating each year. The parade features many military units, veterans groups, bands, fire departments, EMS squads, youth groups, custom designed floats and civilian units.
These are but a few of what's happening all across the state. Look for the local celebration in your town by contacting Borough Hall or reading up on the events to come in your local paper. It will be well worth your time, and the families of the fallen will thank you.