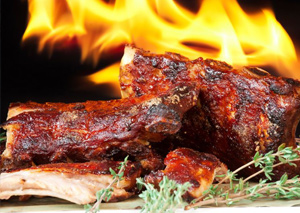 I'm a guy, so that means three things:
I like to grill.
I like to eat.
I cry at the end of "Field of Dreams."
I also like to travel and I am fortunate that my work sometimes takes me to locations outside of my comfort zone and sphere of culinary knowledge.
Top destinations for the type of food I like to eat as I'm coming off the road and calling it a day are in the South, where I can smell the barbeque from miles away. Virginia, North and South Carolina, Georgia…they are the real deal when it comes to pulled pork, hot sauce and racks of ribs. But hey, I live in New Jersey. WhatdoIgottado?
Thanks to the good and hard-working staff members at www.eNJoynj.com, who in their never-ending quest for knowledge, information and corn bread, we have located (and tasted) the best BBQ NJ has to offer. Let the lip-smacking begin:
Fat Jacks BBQ
130 Black Horse Pike
Audubon , New Jersey 08106
856-310-9227
Fat Jack's BBQ has won more than 200 local and national awards, grand championships and state championships for ribs, shoulder, brisket, chili, wings, sauces and more.
Big Ed's BBQ
305 State Route 34
Matawan, New Jersey 07747
732-583-2626
Big Ed's BBQ was established in 1992. We are the Home of the Best Ribs in New Jersey & the "Original" Big Ed's BBQ. At Big Ed's it is "All You Can Eat, All The Time".
Silver Oak Bistro
26 Wilsey Square
Ridgewood, New Jersey 07450
201-444-4744
Progressive American cuisine with a touch of class.
Hot Rods BBQ
19 North Main Street
Wharton, New Jersey 07885
973-361-5050
Hot Rods' full service bar serves up the area's best selection of craft beers, premium liquors and high-power signature drinks.
The Wood Pit BBQ
108 Bloomfield Ave
Montclair, New Jersey 07042
973-954-4679
The Wood Pit adds a touch of true southern barbecue flavor and aroma to the arena of fine gourmet food establishments.  We specialize in Wood Smoked Ribs, Chicken, Beef, and Other Smoked Meats.
Famous Dave's BBQ
1443 Route 22 East
Mountainside, New Jersey 07092
908.232.5619
Authentic BBQ starts in a live-wood smoker stoked with genuine hickory logs. Our pitmasters hand-rub the meats with a custom blend of spices and cook for hours to extract the natural flavors.
Red Hot and Blue Barbeque BBQ
2175 Marlton Pike W
Cherry Hill, New Jersey 08002
(856) 665–7427
The best spot for blues and barbeque.
Jersey Shore BBQ Barbeque
811 Belmar Plaza
Belmar, NJ
(732) 894-9009
After spending the better part of a decade in the Great Lone Star State of Texas and learning the art of traditional smoked food, Doug Walsh brought his love of BBQ and his passion for creating a unique taste back home to the Jersey Shore.
Bourbon BBQ
529 Goffle Road
Wyckoff, New Jersey 07481
201-444-6661
Free local delivery is available to Wyckoff, Franklin Lakes, Fair Lawn, Glen Rock, Midland Park, Waldwick, Ridgewood, North Haledon and Hawthorne.
Why are you still here? Go! Eat! You're welcome!