My husband and I learned of a restaurant in the late 90s on Hamburg Turnpike in Riverdale, called Rosemary & Sage. It was small and blended on a made road between houses. We drove past it, trying to find it the first time: pre-GPS. The interior was simplistic – solid colored walls with a few splashes of color in paintings. The establishment is owned by husband and wife CIA graduates Brooks Nicklas and Wendy Farber. Wendy's brother Bruce served most of the tables while Wendy conducted the entire front of the house. It's a family affair with a loyal customer base.
One of the draws was the constantly changing menu. Customers didn't want to miss out on one of Brooks' new creations. Some recent examples included: fish du jour – sautéed medallion served with seafood beggar's purse, tarragon sauce, broccoli and roasted potatoes (28) and blackened pork chop with mango salsa, bbq Israeli cous cous and butternut squash (27). So even though it was about a 25-minute drive, we would treat ourselves; however, like for many other people, the cost became prohibitive for us. Still, I was extremely disappointed to learn that after 23 years, Rosemary & Sage's story was ending. I would have liked to eaten there again.
In the same sentence; however, I was ecstatic to read that Brooks and Wendy were just changing the formula. Serving the 1% was no longer their target. They decided to appeal to a larger customer base…the middle-class. What more could I ask for? I knew the quality of the food would be as high as it was before. The menu items would just be restructured to allow them to reduce their prices.
I immediately made a reservation. The only seating expansion was the addition of an actual bar with high-top tables, and they now have outdoor seating, albeit on a busy Hamburg Turnpike. Wendy's friendly face was still roaming table to table. Although she hardly remembered me (it had been over five years), I fondly remembered the basket brought to the table were her mini muffins, pepper jelly and butter. It's always a surprise as to what type of muffins. This time they were poppy seed and carrot. Every time they are good.
Between two visits, the following dishes were sampled, and all ranged from $20.95 to $22.95. The portion size was not reduced and all the dishes were composed with CIA quality. Just listen:
Shrimp Pineapple and Cashews with Thai curry coconut sauce
They now also offer fancy pub fare such as pulled pork on a brioche roll. This will certainly expand their customer reach, making if more tempting for those who think Phyllo is a musical instrument. And for those who still think it's too highfalutin, they added a takeout menu as well.
The desserts are still made in-house too. My one disappointment in the change is the name. I loved the sound of Rosemary & Sage. It sounded classy and culinary. It has been changed to Brookside Bistro, which I think understates the type of food here. I believe in brand recognition and would like everyone to recognize it's the same ownership, the same high standards.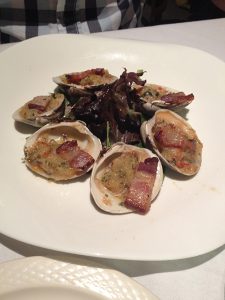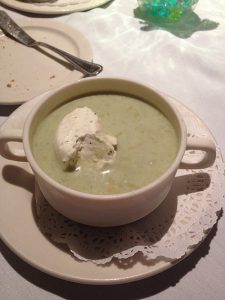 All you New Jerseyans who appreciate four-star quality but have two-star pockets, this place is made for you.
Evelyn Weiss Francisco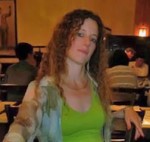 is a Foodie and blogger from the Garden State. Her Blog, "Dishing on Dining", has been running continuously since January of 2012. By day, Evelyn is a busy account executive with a Public Relations firm, by night, a writer with a passion for all things food related.