The Stone Pony: New Jersey's Favorite Music Hub
By Victoria Corinne
We are headed into the dog days of summer here at the Jersey Shore and just like every year around this time, there are a few things that will always remain certain: the beaches, boardwalks and towns are crowded with tourists and the line-up at The Stone Pony is absolutely rocking. Local or a visitor, music lovers alike know about the iconic Stone Pony in Asbury Park, NJ. From the history of the club to the famous rock stars like Bruce Springsteen and Bon Jovi, who got their start on the electrifying stage, the venue is known for giving you a musical experience that will leave you wanting more as soon as the performer sings the last note of their set. The best part about this summer's schedule is the fact that they don't stick to hiring just one similar genre to play the venue, but a plethora of different ones, which draws hundreds of thousands of unique music listeners daily.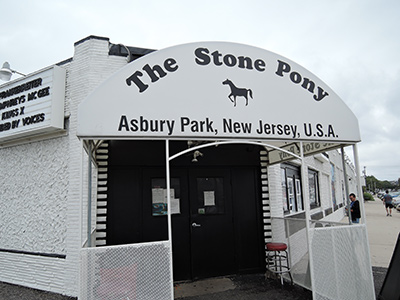 With it only being the beginning of July, The Stone Pony has already seen the likes of artists such as The 1975, Carly Rae Jepsen, Borns, Steel Train and Bishop Briggs, who were all a part of the 'Shadow of the City' music festival back in mid- June. Jack Antonoff, lead singer of the band Bleachers, created the festival to 'revitalize the world's image of New Jersey as an artistic hub' which was mentioned in a June 2015 Rolling Stone article. The Stone Pony strives to be a place where music comes alive, and with the 2nd SOTC festival being a success, I'm sure we will continue to see Antonoff and his crew come back to present a bigger and better festival each year. Another chart topping artist stopped by The Stone Pony just last week to play some sweet tunes. Singer-songwriter Jason Mraz graced The Stone Pony with his presence on Wednesday June 29th, where he performed with just his guitar. Mraz noted that the crowd at the Pony was "the best singing audience you ever heard," making sure to thank everyone for 'the love and beautiful harmonies' on his Instagram page later that evening.
As the summer goes on, the stages at The Stone Pony will continue rocking with bands such as The Struts, Matisyahu, Jane's Addiction, Dinosaur Jr., Umphrey's McGee, Sugar Ray, The Lumineers, O.A.R, Deftones, Slightly Stoopid, Citizen Cope and so many more.
If you are looking for a summer full of good music, good vibes and a good view, look no further than The Stone Pony, where people of all ages can enjoy various genres of music while learning just how special the venue is to music lovers and historians galore.
The full schedule of performances along with times and ticket info can be viewed at The Stone's Pony's official page: http://stoneponyonline.com/index.html