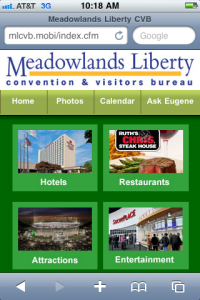 RUTHERFORD, NJ – JANUARY 19, 2011 – The Meadowlands Liberty Convention & Visitors Bureau (MLCVB) has launched a new mobile website that allows visitors who are traveling to the region access to all of the hospitality components and attractions from the main website with an easy to use interface.
The mobile website, which was developed by Mobi Manage, one of the leading developers in the travel and tourism industry, is compatible across most smart phone platforms.
"All indicators suggest that mobile web usage and advertising will overtake desktop in coming years," says Jim Kirkos, MLCVB President and CEO.  "As the leading advocate for our region's travel and tourism economy, it is essential that the MLCVB conveniently reaches and accommodates the maximum number of individuals interested in our region.  Launching the mobile website ensures our ability to do so."
The mobile website mirrors the look of the MLCVB's website, www.mlcvb.com, ensuring familiarity and brand consistency for users.  The same regional categories are featured on each site: hotels, attractions, shopping, restaurants, entertainment and transportation.
Visitors to the site may search hotels by budget, extended stay, luxury and standard categories; attractions are divided by type and calendar; shopping is listed by category; restaurants are identified by cuisine; entertainment is divided by type.  Transportation options include Newark Liberty International Airport, EZRide, the Hudson and Newark Light Rail Systems, NJ Transit, NY Waterway, The Port Authority of New York and New Jersey and Teterboro Airport.
The MLCVB's website also features an ADEP tool which is compatible with the mobile website.  The tool will enhance mobile users' experiences in the region as it allows over 200 MLCVB members to post specials, coupons, contact information, and hours of operation to the site in real time.
Originally launched in 2003 and most recently updated in 2010, www.stayinthemeadowlands.com and www.stayonthewaterfront.com now book travel plans directly through an online booking site powered by Sabre, the same technology used to power leading online travel websites like Travelocity.  As the new year begins, the MLCVB will continue to seek advancements in technology and connectivity.