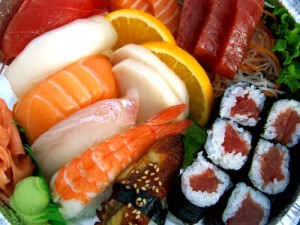 SECAUCUS, NJ – NOVEMBER 15, 2010 – On Thursday, November 18 at 11:30AM, Tokyo Hibachi Asian Cuisine and Tokyo Buffet will open in Harmon Meadow in Secaucus, NJ with a ribbon cutting ceremony.  The new restaurant will add to Harmon Meadow's robust selection of quality dining.
"Hartz continues to seek opportunities that maintain Harmon Meadow's status as the region's premier destination to work, shop, dine and enjoy a wide array of entertainment options," commented Emanuel Stern, president and chief operating officer of Hartz Mountain Industries.  "The addition of Tokyo Hibachi Asian Cuisine and Tokyo Buffet is a part of this effort as it adds an element of variety that will appeal to our patrons."
The owners of Tokyo Hibachi Asian Cuisine & Tokyo were raised in Asia.  Together, they have incorporated their culinary experiences in Asia with those in the United States, creating an Asian fusion cuisine. The menu offers flavors from China, Japan, Thailand, and the US, creative preparations, French-stock making, live action, open-flame hibachi cooking, fifty selections of sushi and sashimi, cooked sushi, hand rolls, beer, wine, sake and cocktails.
"We are excited to open Tokyo Hibachi Asian Cuisine and Tokyo Buffet in Harmon Meadow," commented the restaurant. "We have worked hard to develop a diverse menu and inviting ambience that would not only please the patrons at Harmon Meadow, but also attract a new set of visitors to Harmon Meadow."
Secaucus Mayor Michael Gonnelli also commented on the restaurant's opening.  "Harmon Meadow continues to attract high quality restaurants, stores and businesses to Secaucus, like Tokyo Hibachi Asian Cuisine and Tokyo Buffet.  I wish the restaurant much success."
The restaurant will feature two separate entrances, one to Tokyo Buffet, and one to the Tokyo Hibachi Asian Cuisine.  The restaurant in situated in the Harmon Meadow Plaza in between Red Lobster and Houlihan's. Outdoor seating is available weather permitting.  Together, the cuisine and buffet offer over 150 varieties of sushi and entrees.
Constructed in 1984, Harmon Meadow was a breakthrough in suburban development – a mixed-use development three miles from Manhattan that attracted the region's best office, retail and restaurant tenants over the years. Retailers and restaurants in Harmon Meadow include the state-of-the-art Kerasotes ShowPlace Theatre, Wal-Mart, Sam's Club, Marshalls, Raymour & Flannigan, T.J. Maxx, Toys 'R' Us, Babies 'R' Us, The Sports Authority, AC Moore, HomeGoods, PetSmart with a PetsHotel, Bob's Discount Furniture, Bonefish Grill, Red Lobster, Chipotle Mexican Grill, Cheeseburger In Paradise, Chili's, Starbucks and Cosi's.  For more information about Harmon Meadow, please visit www.hartzmountain.com