by E. Assata Wright
Jan 09, 2011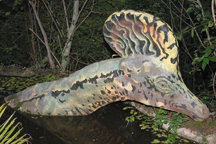 Imagine a large-scale exhibit of dozens of life-sized animatronic dinosaurs set against the natural vegetation and wildlife of the Meadowlands. Now imagine this exhibit coming to Secaucus.
Similar exhibits, known as "dinosaur parks," have been popular and successful in a number of cities, including Cincinnati, Chicago, and Oklahoma City.
If a Glen Ridge-based company gets its way, the New York City area could debut its own dinosaur park in spring/summer 2012 – with Secaucus the likely home.
"It's going to feel like a dinosaur expedition, like a safari into a lost world," said Guy Gsell, president of Jerseysaurus, the company working to open the dinosaur park in town. "Every kid – and I mean kids from 5 years old all the way up to middle-aged guys like me – love to imagine what it would have been like to be there, to see live dinosaurs. The best dinosaur parks that have been done thus far creates that feeling."
"It's going to feel like a dinosaur expedition, like a safari into a lost world." – Guy Gsell
At present the plans are very preliminary, since Jerseysaurus is still negotiating for a site, corporate sponsorship, and other funding. But if the company's plans work out, the Secaucus park would be a permanent installation in town, a departure from most other dinosaur exhibits.
"What will make what we're doing different is we're not planning it as a tour, or a leg of a tour," Gsell said. "We are hoping to open up a dinosaur park that will be part of the life of this area for many years."
The seasonal park, he added, would be open to the public about nine months out of the year, spring through fall, with families and schools being the park's two biggest target audiences.
Land of the lost
As planned, the park will include life-sized replicas of dinosaurs that will feature animatronic technology to create a realistic, three-dimensional quality often missing from traditional exhibits. For example, using robotic technology, the dinosaur models – which will be endowed with flesh-like "skin" – will be able to make sounds and small movements, the accuracy of which is based on historical research by paleontologists.
"Believe it or not, there are lots of good high quality animatronic dinosaur companies out there," said Gsell. Jerseysaurus is currently in negotiations with three companies – Dinosaurs Unearthed, Billings Productions, and Komutek – about supplying replicas for the park.
New Jersey's official dinosaur
As for specific dinosaur species likely to be included in the exhibit, Gsell said visitors can expect all the crowd pleasers to be prominently featured, including the Tyrannosaurus Rex, the Stegosaurus, and the Pterosaur. But park patrons should also expect to see several lesser-known species, for example the Hadrosaurus, the Garden State's official dinosaur. (Yes, New Jersey has an official dinosaur. Remains from this species have been uncovered here.)
The models will be set against a landscaped backdrop taken directly from the Meadowlands region to further create sense of reality. Life-sized dinosaur skeletons will also be included in the exhibit.
A boost to ecotourism?
Since plans for the park are still in the negotiation phase, Gsell declined to discuss last week specific plots of land that are under consideration. But of all the areas in the New York City region, the New Jersey Meadowlands, he said, offers the greatest connectivity to nature.
"Its an open air exhibit. So we need something that has a feeling of nature," Gsell said. "Texas just did a similar exhibit at a wildlife preserve. That kind of respect for the environment, brining the local environment into the exhibit, having the exhibit blend in with the local environment, and being conservationist at the same time, that's exactly what we want to do."
The dinosaur park, he added, would include plant life from the Meadowlands region to make the exhibit feel more realistic and indigenous to the local environment.
Of the 14 towns in the Meadowlands, Secaucus is the frontrunner, Gsell said, because it's home to the Frank R. Lautenberg Rail Station, a major transportation hub that can easily accommodate visitors from Manhattan and other parts of New Jersey.
Jerseysaurus is now working closely with the New Jersey Meadowlands Commission (NJMC) and the Meadowlands Regional Chamber of Commerce to secure a site. The chamber and the NJMC, a state agency, have long advocated for increased ecotourism in the Meadowlands district. Gsell estimates the park needs about 12 to 15 acres to accommodate both the exhibit and parking.
Local officials who have met with Jerseysaurus representatives say the exhibit could be a good ratable for Secaucus and a boost to local tourism, without creating negative impacts for residents.
"The way I understand it, they're looking at sites near the train station, not in the residential areas of town," said Mayor Michael Gonnelli. "And they'll have on-site parking. So, I don't think this will create traffic or parking problems for our residents. The exhibit could also be an anchor that attracts other businesses to Secaucus.