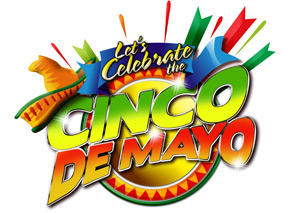 No need to go shopping for gifts. No special outfits are required. No awkward family gatherings to muddle through. This is one holiday that asks only that you have fun. And drink responsibly. Because drinking is a major part of the celebration. And food. Let's not forget the tasty treats that await you on May 5, or as it's better known, Cinco de Mayo.
Here in Nueva Jersey, there is no shortage of places to spend a memorable evening of food, drink, music and dance. Vaya con Dios amigos!
Blue Moon Mexican Cafe, Friday, May 2 to Monday, May 5, 2014, Woodcliff Lake, Bronxville, Englewood, Wyckoff, Jersey City: The Blue Moon Mexican Cafe restaurants in New Jersey and New York will be celebrating Cinco de Mayo all weekend long and into Monday. This is their biggest party of the year. They start the party on Friday, May 2, 2014 with fiesta hour and promo parties from 3:00 to 7:00 p.m. and live music in Englewood & Wyckoff. On Saturday, May 3, they will host … Cinco de Mayo in Englewood & Beyond …
Jersey City Cinco de Mayo Parade & Fiesta, Friday, May 2, 2014, Jersey City: Jersey City celebrates their 9th annual Cinco de Mayo Festival a few days early on Friday, Dos de Mayo with a parade and a fiesta that goes on from 4:00 in the afternoon till midnight. The festival is sponsored by Silverman, The Merchant and the New Jersey Beer Company. The party takes place across from City Hall and features live music, margaritas … Cinco de Mayo in Jersey City
Calpulli Mexican Dance Company, Monday, May 5, 2014, Morristown: The Mayo Performing Arts Center will present the Calpulli Mexican Dance Company on May 5, 2014 to celebrate Cinco de Mayo. Take a musical journey through Mexico's rich cultural heritage via traditional songs, storytelling, regional dances and authentic costumes. The Calpulli Mexican Dance Company, also known as the Calpulli Danza Mexicana, is a dance company and performing arts organization based in New York City. Calpulli is dedicated to the performing arts, cultural enrichment, and to the Mexican and Mexican-American community it represents. Since its founding, the touring company has performed from coast to coast in the United States. The company's repertoire celebrates tradition in fast-paced, emotive, and dynamic programs that bring cheer and, at the same time, introspection about … Cinco de Mayo @ Mayo in Morristown …
Cinco de Mayo 5K, Saturday, May 3, 2014, Lafayette Township: The 4th Annual Cinco de Mayo 5K Run & Walk will take place on Saturday, May 3, 2014 at Old Lafayette Village in Sussex County. The race will benefit the Lafayette Education and Advancement Foundation. There will be a disc jockey and post … Cinco de Mayo in Sussex County …
Cinco de Mayo Cultural Festival, Sunday, May 4, 2014, Bridgeton: The city of Bridgeton celebrates Cinco de Mayo like no other community in New Jersey. The town holds their party on the first Sunday of May each year in the heart of the Bridgeton Culinary district in downtown Bridgeton. The festival features Mexican music, dancers, dancing horses and Mexican and Latin foods. The festival is … Cinco de Mayo in South Jersey …
Cinco de Mayo Festival, Sunday, May 4, 2014, Landisville: Bellview Winery in Landisville is celebrating Cinco de Mayo on Sunday, May 4, 2014. The event will start at 11:00 a.m. and run till 5:00 p.m. Bellview's most popular wine is called Fiesta and that makes it perfect for Cinco de Mayo. The festival will feature music by … Cinco de Mayo @ Bellview …
Villa Milagro Cinco de Mayo, Saturday, May 3, 2014, Phillipsburg: Villa Milagro invites you to become Mexican for a day on Saturday, May 3, 2014 for their celebration of Cinco de Mayo. The event features festive music, tapas or bocadillos (little bites), a glass of Sangria, a monogrammed glass … Cinco de Mayo @ the Villa …
No matter where you celebrate, just remember to take care of each other out there.
Hmmm, how do you say eNJoy in Spanish?
Disfrutar!