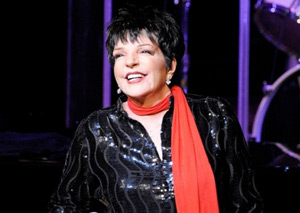 As divas go, there aren't many, if any, that can rival the glorious Ms. Minnelli. Cher comes close, Christina Aguilera is what I would call a diva in training and Lady Gaga probably deserves a category of her own somewhere out in the outer reaches of our solar system. But Liza…Liza is old school in the best way possible. She can channel her mother, the late, great Judy Garland, she can belt out show tunes that even on their best days the cast of Glee would fall short, and she can charm with all the wit and wonder of a career and a life chock full of triumph and tragedy, highs and lows, head rushes and heartbreaks. Is there anybody in America that didn't fall for her in "Arthur" (NOT the one with the ridiculous Russell Brand, the good one with Dudley Moore)? Even before that, she lit up the screen in "The Sterile Cuckoo," a hysterical film from 1969. In musicals like "New York New York" with Robert De Niro and "Cabaret" with Joel Grey, she showed not only her vocal skills but also her very touching and fascinating acting ability. Who doesn't remember her first TV special "Liza with a Z?" This year she appeared on the TV show "Smash" as herself. That in itself is testimony that she is larger than life.
Still going strong and doing what she does best, her show arrives at the State Theatre in New Brunswick on May 11 for the State Theatre's 25th Annual Benefit Gala. Accompanied by a full orchestra she will be performing her all-time greatest hits, the classics from shows and smoky lounges from days and nights gone by, as well as her renditions of modern classics. And you know with Liza, there will always be a few surprises.
"… Liza was sparkly and exciting, and kept getting standing ovation after standing ovation for being so full throttle all night."—The Village Voice (3/13/13 concert at Town Hall in NYC)
No slouch in the awards department, she has won a Tony, A Grammy, an Oscar, a Golden Globe and an Emmy. And I think she was a runner up for the Heisman Trophy in '71, and a third round choice drafted by the Cleveland Browns in the NFL draft.
There are VIP packages available and Premium tickets which include not only choice seating but also cocktail receptions, dinner and dancing.
You know you're thinking about it…"Maybe This Time" you'll go.