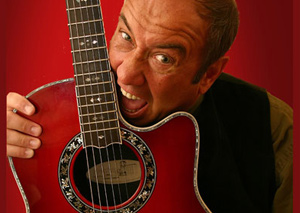 Comedians have been doing jokes about love and marriage for centuries. Maybe longer. Anthony probably had a few things to say about Cleopatra and her big asp.
Romeo might have ranted about his in-laws, and you know Martha Washington harped on George's wooden teeth while they were making out in Mount Vernon.
"Take my wife, please," was Henny Youngman's mantra. Joan Rivers had Edgar and Rodney's spouse gave him no respect. Since then a bumper crop of young comics have written and performed jokes about their relationships. Tim Allen and Ray Romano brought their travails to television. And this week, in honor of Valentine's Day, New Jersey's favorite rock and roll comedian brings his takes on love and laughter to the Comedy Stop Café at the Tropicana Casino in Atlantic City. You might already be familiar with Gary DeLena from his numerous appearances on Comedy Central, Showtime, HBO, MTV, VH1, Fox, A&E and the late night network shows. His "ee-YES" man introduction in the late 80's became a catchphrase for a generation and graced the comedy clubs across the state for decades. His song parodies include riffs on Billy Joel, Bruce Springsteen, Neil Diamond, Elton John and a certain book phenomenon called "Fifty Shades of Grey" that you need to hear to believe.
Those who have been fortunate enough to see a live performance know that much of Gary's material derives from his marriage and family life. How his wife and daughters have put up with him for a quarter of a century is a comedic mystery that doesn't need to be solved, just enjoyed. Audience members know that his tales also echo theirs, and that's what makes Gary's act so accessible. His stories are their stories.
The shows will be performed at the Comedy Stop Café at the French Quarter in Atlantic City's Tropicana. This legendary club is celebrating its 30th year as New Jersey's leading comedy venue. Many clubs have come and gone during that time but the Comedy Stop has endured because it's owner and impresario Robert Kephart has put forth the very best comedy has to offer in a comfortable setting that invites the audiences to sit back, relax, have a drink or a meal and enjoy the best comedians America has produced. Over the years, in addition to current headliners like Gary DeLena, Steve Shaffer and Greg Morton, the club has showcased superstars like Ray Romano, Drew Carey, Rosie O'Donnell, and the late great Richard Jeni. Who knows what the next round of shows will bring? No matter what, you can count on a fantastic experience when you enter the doors and are greeted with an entertaining night of laughter you won't soon forget.
So do something special for you lover this Valentine's Day. Roses are nice, candy is cool, but laughter increases endorphins. And you know where that might lead…