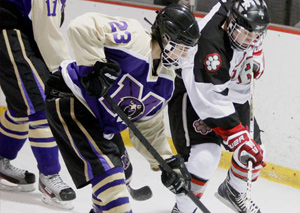 I watched a hockey game recently that just made me laugh in spite of the situation. In the opening seconds, as the puck was dropped, both teams immediately threw down the gloves and started fighting on the ice. I have to say that fighting in hockey doesn't really surprise me, but to see an entire team wrestling and punching and slipping and sliding for what seemed like an eternity just struck me as absurd. What would Brian Boitano do?
Need less to say, everything that takes place on ice is not about brawling. Some skate for the artistry, some for the exercise and physical regimen. Some do it just for fun. These are the people I'm talking to right now. Not everyone has a frozen pond in his or her backyard. So what do they do? Where can they go to skate on a cold winter afternoon? In New Jersey, the answer is…almost anywhere.
Here are some places where adults, children and families can go to practice their triple lutzs, their figure 8's and just plain not falling down maneuvers. Lace 'em up folks!
Newport Skates
The only outdoor ice skating rink on the Hudson River waterfront.
Located in Newport, Jersey City, it is surrounded by numerous restaurants and amazing Manhattan views. The 7,000 square foot rink is open during winter months, and season passes are available, as well as skate lessons.
Hours are Monday-Friday 4-9pm, Saturday 11am-9pm, and Sunday 11am-7pm. Admission is $7 and rentals are available for $6.
95 River Drive, Jersey City, NJ
201-626-RINK (7465)
Clary Anderson Arena

General admission is $5.50 and skate rental is $3.50. The Clary Anderson center offers skating lessons and hockey lessons for children and or adults. You can have your children's birthday parties here. They also offer group rates or complete ice rental for $235 an hour.
41 Chestnut Street, Montclair NJ
973-744-6088
Floyd Hall Arena
 

Their twin rinks are open year-round, seven days a week for public sessions, figure skating, and ice hockey. They also have a full service pro shop if you need equipment or accessories. Lessons Available.
One Hall Drive Little Falls, NJ
973 746-7744

Ice Vault Arena 


The North Fork Bank Ice Vault Skating Arena is the tri-state area's newest multi-rink facility. Two rinks operating year round, with open public skating available.
10 Nevins Dr. Wayne NJ
973-628-1500

Richard L. Korpi Ice Rink
The Richard L. Korpi ice skating rink is located at the foot of West 28th
Street in the Bayonne High School. Must be a resident of Bayonne to use facilities.
Guests are permitted but must be accompanied by a resident. The Richard L. Korpi rink also offers parties for children during weekend afternoon public sessions.
Bayone High School, Bayone NJ
201-858-5566
Old Bridge Ice Skating Arena
Offers public skating everyday. Children's birthday parties and many types of classes for all ages to learn how to skate.
Old Bridge, NJ
732 607-7971
Princeton Sports Center
New Jersey's State Of The Art Skating Facility. They have Travel Hockey and open skating to the public. Take lessons and learn To Skate or Figure Skate. They have a great coaching staff.
1000 Cornwall Rd, Monmouth Junction
732-940-6800
Red Bank Armory Ice Complex
They offer public skating as well as skating lessons. They also have a pro shop. You can also have your parties here.
76 Chestnut Street Red Bank NJ
732 450-9001
Aspen Ice at Flemington
NHL regulation size rink, full size arcade, party areas, snack bar, fully stocked full service pro shop, all complemented with high quality features. Offers Public Skating.
426 Cace Bvld. Flemington
908-237-1423
Wall Sports Arena
Adult Open Hockey Ages 18 & Over. Monday / Wednesday / Friday  12pm – 1:30pm and Fridays 10pm – 11:30pm. Public skating is also available. Friday Night DJ Skate Is Here!! 8pm-11pm Every Friday.
1215 Wyckoff Road Farmingdale NJ
1-800-ICE-HOCKEY
Hollydell Ice Arena
From public skating to figure skating to ice hockey, Hollydell offers something for everyone. Their two ice rinks (one Olympic size, one NHL size) gives everyone the opportunity to skate at their own skill level.
601 Hollydell Dr Sewell NJ
856-589-5599
The Igloo at Mt Laurel
The Igloo has it all! From summer camps to youth leagues. Mens Hockey leagues, skating lessons and Ice skating Birthday Parties in NJ.
3033 Fostertown Rd Mt. Laurel NJ
856-638-0801
Flyers Skate Zone
Come out and experience our NEW and IMPROVED weekend public skating sessions! The Atlantic City Facility offers many great opportunities for anyone to come out from the community and skate.
501 North Albany Ave. Atlantic City, NJ
609-441-1780
Ocean Ice Palace
Come visit the updated and spectacular Ocean Ice Palace! This professionally designed rink is the ideal place to practice, train and maintain your edge on the competition! Public Skating every Saturday afternoon 3:15pm-5:15pm
Admission $7.00 Rentals $2.00
197 Chambers Bridge Rd Brick NJ
732-477-4411