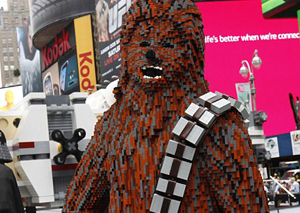 I never realized how big the whole Lego industry was until very recently. Sure, my kids had Lego's and we built houses and cars and pirate ships. It was fun, it provided an excellent bonding opportunity for the entire family and brought about a real sense of accomplishment when a structure was completed and put on display for all to see. I truly saw myself as a "Master Builder" and I felt very good about myself. Well, HAH!
My first awakening was when I saw the Lego Movie (about 6 times). These are not your father's Lego's. Encased in some brilliant filmmaking with a hysterical script and a series of brilliant actor's voice talents, the Lego's literally came alive with wit and wonder. It was a world in which Lego's defied the imagination. LOVE the Double Decker Couch! Next stop, the Times Square Toys R Us store, sadly, now gone. They featured a giant green Hulk, King Kong and the Empire State Building. My first reaction was, "Whoa! Who does this?" Was it a band of Chinese technicians? A NASA engineering crew? A room full of eccentric 12 year olds with acne and thick glasses?
No, it was just every day people, who have discovered the magic provided by a series of plastic pieces that can be arranged into any shape they desired. And so, with that thought, we present the LEGO AMERICANA ROAD SHOW!
APRIL 2 – 17
Giant replicas of the nation's most recognizable landmarks made from thousands of LEGO® bricks will be on display throughout Bridgewater Commons this spring!
The LEGO® Americana Tour is a highly visual, educational and free traveling installation of larger-than-life LEGO® models. Replicas of iconic buildings and architectural structures will be on exhibit at various locations throughout the shopping center.
The one-of-a-kind, large scale model of American landmarks made completely out of LEGO® bricks by LEGO® Master Builders will entertain customers with stunning visuals and fun facts. Featured landmarks include: U.S. Capitol Building, White House, Supreme Court, Washington Monument, Jefferson Memorial, Lincoln Memorial, Statue of Liberty, Independence Hall and Old North Church.
Make and take home your own mini version of a LEGO® Independence Hall for FREE
Saturday & Sunday, April 9 & 10: 12 – 4:00 PM
Teachers can create lesson plans ranging from American History to civics discussions inspired by a LEGO® brick.
RSVP for a chance to win a $100 LEGO® Gift Card.
Using Instagram, take a photo at any LEGO® Americana Roadshow display and tag @bridgewatercommons @LEGO and #LEGOAmericana
You can enter up to 10 times!
See Official Rules for details.
RSVP today
Bridgewater Commons
www.bridgewatercommons.com