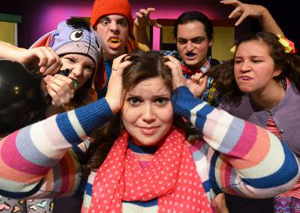 The Centenary Stage Company Women Playwrights Series celebrates its 25th year in 2016, having featured the work of more than 60 emerging playwrights in the developmental WPS process, and having taken 15 plays to full production from the series, including "The English Bride" by Lucile Lichtblau, which transferred from CSC to New York City in 2013.   The program offers playwrights the opportunity to work with professional actors and directors in a workshop rehearsal process, and to hear their work in front of a live audience – a critical part of the development process.  Lively talk-backs with the playwright and cast follow each presentation, and one play is selected each year as the winner of the Susan Glaspell Award, which promises a full production in the main-stage season at CSC.
Here are the three playwrights featured this month:
No Candy by Emma Stanton
Wednesday, April 13 at 7:30pm
Humor, art and absurdity continue to persist in an unimaginable time in this story of wry, resilient survivors of war. With wit and poignancy, Stanton explores how trauma inhabits the body and shapes a community.
Emma Stanton is a Chicago and New York theater artist, with an interest in documentary and site-specific theater. She has worked with such companies as Redmoon Theater, American Theater Company, About Face Theatre, Double Edge Theater, Steppenwolf Theatre Company, Oracle Theater, 600 Highwaymen, En Garde Arts, and Walkabout Theater Company, of which she is Associate Artistic Director. She was a recipient of a Civics and Arts Foundation Playwriting Award for Emerging Artists in Chicago and most recently, her play Bojko and The Glacier was a semi-finalist for a Princess Grace Award. Currently, Emma is working on a commission by Bosnian artist Sejla Kameric, writing for Walkabout Theater's upcoming show, Cure, in June 2016, and teaching a documentary theater class at Wadleigh Secondary School for the Performing and Visual Arts in Harlem.
The Perils of Human Discourse by Sonya Sobieski
Wednesday, April 20 at 7:30pm
Dario Fo meets Woody Allen inn this comedy about two young romantics navigating their way through love, language and work at the "Institute of Right Things to Say." In the end, is it easier – and more elegant – to just say nothing?
MFA from Brooklyn College. Affiliated artist with NYC's Obie Award-winning New Georges, who commissioned and produced Commedia dell Smartass, an alternative take on the archetypes of high school, subsequently performed by Serious Play! in Northampton, MA and published by Indie Theatre Now.  In development: Love Hate Potion No. 9 (a time-jumping theatrical thriller investigating self-obsession and female friendship; staged reading with The Pulp Stage, Portland, OR) and The Unfortunate Squirrel (an existential comic musical; readings produced by Woodshed Collective and The Flying Carpet Theater Company). Other NYC: one-acts and one-act musicals produced by EBE Ensemble, Clubbed Thumb, New Georges, Vital Theatre, and Prospect Theater. Published in Smith & Kraus's The Best Ten-Minute Plays 2013.

The Surrogate by Patricia Cotter
Wednesday, April 27 at 7:30pm
A smart, funny play about what we can ask of our friends, our parents and spouses, and whether we'll get any of our important life decisions right!
Patricia Cotter is an Emmy Award winning, Groundling Theater Alum. She's received the American Academy of Arts Letters, Richard Rodgers Award for musical theater. Other honors include the Ovation Award and the Garland Award. Plays include RULES OF COMEDY 39th Humana Festival of New American Plays, 2015; THE ANTHROPOLOGY SECTION (2015), and RULES OF COMEDY (2014) performed by The Actors Theatre of Louisville's Evening of Ten Minute Plays, Heideman Award finalist; The City Theatre, Miami, Florida will produce THE COLONY; for its upcoming special production of Island Shorts 2016 on Key Biscayne; THE SURROGATE (Semi-finalist, O'Neill National Playwrights Conference 2016) THE BREAK UP NOTEBOOK (A GLAAD Award nominee); and THREE; BEST/WORST (Apartment A Theatre Company, Venice CA, where she was playwright-in-residence). Patricia co-wrote the cabaret show, SO FAR – BETH MALONE (Joe's Pub, NYC, The Triad, NYC, The Wheeler Opera House, Aspen, CO). Her musicals (librettist/adaptations) include ROCKET SCIENCE: A MUSICAL (Music by Stephen A. Weiner, lyrics by Jason Rhyne) and THE BREAK UP NOTEBOOK: A MUSICAL, (based on her play, music and lyrics by Lori Scarlett). She adapted MULAN, JR. based on the Disney film, MULAN for Disney Theatrical. She was the co-librettist on JUSTIN LOVE, which won The LA Drama Critics Circle Award for Best Production 2013.  She is writing a new musical with composer Lori Scarlett, LADYKILLERS, which they developed at the Rhinebeck Writer's Retreat. She is a member of the Playground Writers Pool, where she received the 2014 June Anne Baker Prize and commission which honors the top female playwright representing a gifted new comedic or political voice for the stage.  She is a 2016 Playwrights Foundation Resident Playwright.