Well friends, and fellow gardeners, it's that time of year again. As I walk my customers' properties, I see a myriad of perennials, grasses, sedges, liriope, daylilies and other plants, all around that need dividing. What has been on my mind after this last horrible winter, ready for my hands to spring into action (no pun), and get down to the nitty-gritty of my favorite of springtime start up activities? Division!

The first plant that I like to take care of is the daylily. They seem to be ahead of the other plants emerging at this time of year, and they in my experience, most hearty when divided at the height of 2"-3". I do not recommend waiting until later in the season to divide, as they will look wilted all season if they grow tall at time of division. Even if you do not know where to translocate them to in your garden, pot them up into 4" or 6" sterilized grow pots in a sterile growers medium. These lilies (right photo), are not quite ready, but within the week, assuming a couple of more sunny warmer days, and they will be fine for dividing, and trans-plant.
Another good plant to do now is Liriope, or "Lily Turf". First cut off the old growth to 2'-3" height, and dig out around the plant fairly outside the roots, and just section the root mass into the size of what a 1 gallon size perennial plant would be. As mentioned, if you do not know what to do with the newly divided plants, pot them up as mentioned above. It is advisable of course, to have an idea of where to plant prior to starting.
Note: according to my friend Bill Kolvek, Sedges are best divided now.
Planning, Designing our newly divided material:
I usually have an 11" x 17" or larger sketch of my customer's property, and overlay a sheet of trace paper to help visualize the new locations and trans-plantings. I like to take into account the views to the out of doors, from inside the house, as well as exterior aesthetics, to achieve a good design. As usual, I provide architecturally appropriate designs for the home or business.
April is a month that I also like to transplant over-grown existing plant stock, while we are re-configuring garden and shrub beds for the client. Sometimes plants are re- located to provide more space; sometimes we need more light, or even less light for plant material.
This month offers the advantage of the typical lack of heat stress on the newly planted material. I like to create the interest of change in the landscape from season to season, or year to year, as it keeps us looking for what is new in blooms and foliage.
Thank you for reading my article, and Happy April Gardening!
Written By: Everett Fink
Edited By: Elysse Fink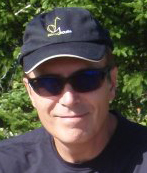 Everett Fink is a Certified Rutgers Master Gardener, Certified Pesticide applicator, and N.J. State licensed Home Improvement Contractor. Everett was designated Top Tier Designer at Sponzilli Landscape, and currently Owns Property Details LLC, in New Jersey. Property Details has a Container Gardening Division designing and maintaining Pools, Patios, and Porches with beautiful flowers, and foliage.