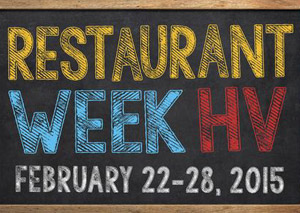 As a student at Rider University in the fall of 1973, I moved into an off-campus house on West Broad Street in the picturesque town of Hopewell. My fellow student housemates in those days scraped by with the meager earnings we would accrue from part-time jobs at the bookstore, the student union and the local pizza joint.
We really didn't have the money for fine dining and lived on mac and cheese and Raman noodles. Accoring to my daughter, now a senior at Rider, things haven't changed.
What HAS changed is the amount of culinary havens that have sprung up in the Hopewell Valley, from Pennington to Kingston. A diverse and comprehensive array of casual and fine dining establishments now entice both locals and tourists to eNJoy the bounty that New Jersey has to offer – from upscale Italian cuisine to farm fresh healthy alternatives. So many eateries will be providing quality meals for incredible deals. Why not warm up this winter with Hopewell Valley Restaurant Week?
Local restaurants have cooked up some special menus and some tasty surprises
for their second annual restaurant week. Gather up your friends and visit a new bistro or an old favorite.  Here is a quick guide to some of the area's participating venues:
Antimo's Italian Kitchen
Our 80 seat dining room and outdoor patio are causal and family friendly. Guests enjoy personalized service from an experienced friendly waitstaff. We feature homemade pasta made by our executive pasta chef, Nino Galastro, and other dishes that hail from southern Italy.
antimositaliankitchen.com
Brick Farm Tavern
Brick Farm Tavern at Double Brook Farm grew out of the desire for Jon and Robin McConaughy to know where their food comes from, and it all started with one cow. From that first cow in 2004 to today's fully operational working farm raising pigs, sheep, chickens, turkeys, goats, cows, and ducks the McConaughy's have never lost sight of what mattered most in their operation: humane and ethical animal treatment, energy sustainability and keeping it local.
brickfarmtavern.com
The Blue Bottle Café
The Blue Bottle Café opened its doors in March 2006. Shortly after opening, the owners, Rory and Aaron Philipson were informed that the restaurant had been reviewed by the New York Times. Karla Cook, the writer of the article, jokingly asked the duo, "Are you ready for what's about to happen?" They were indeed, and continue to offer seasonal, creative and delicious menus in their little blue house in Hopewell.
thebluebottlecafe.com
Wildflowers Inn
Bring your family and friends for one of the best casual dining experiences offered in town. Wildflowers Inn serves a wide variety of dishes, Daily Specials, and has a fully stocked bar with 23 Beers on tap. Also, each room boasts large flat screen T.V.'s for all you sports viewing pleasures.
wildflowersinnrestaurant.com
Sumo Sushi
From spicy tuna rolls to rice and noodle dishes, our chefs prepare a diverse menu of Japanese and Chinese cuisine to excite your taste buds. Dine in an exceptionally clean restaurant perfect for all occasions, including business meetings and romantic dinners.
sumo12.com
The Brothers Moon
Opened in 2000, The Brothers Moon is BYOB with 80-100 seats, full-service restaurant featuring a seasonally changing menu as well as daily specials. The beautiful front patio offers seasonal al fresco dining. On one side of the building, our take-out cases are filled with the freshest salads, cheese, specialty meats, olives, and breads with delicious goodies, pastries, cookies and more from our own ovens.
brothersmoon.com
Dine for a Good Cause
During Hopewell Restaurant Week, please consider supporting FISH (Friends in Service Here).
FISH is a charitable 501C, all volunteer program, serving meals on wheels to the homebound of Hopewell, Pennington, Titusville and surrounding areas. Meals are made and subsidized by the Pennington Quality Market on a sliding scale depending upon need and served Monday through Friday. The only requirement is that the client is homebound and this can be on a permanent or temporary basis. For more information about FISH, call 609-737-9123