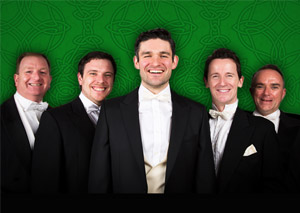 The Five Irish Tenors make much-anticipated stops at two of New Jersey's premiere theatres – The State Theatre in New Brunswick and the Mayo Performing Arts Center in Morristown for a concert packed with their grand vocal tradition of lyricism, dramatic flair, extraordinary musicianship, boisterous charm and operatic style. Accompanied by two grand pianos, the multi-award winning tenors will be singing a program packed with Irish classics like W.B Yeats's "Down By The Sally Gardens," "My Wild Irish Rose," "Green Green Grass of Home," "When Irish Eyes Are Smiling," "Toora – Loora – Looral" and "Danny Boy," as well as American folk rock favorites like "The Piano Man" and "Bridge Over Troubled Waters."
This concert project is the first tour ever in North America of Ireland's of this popular ensemble, and has been specifically recreated from the major cities in Ireland for the United States and Canada.
Following in the footsteps of the great John McCormack, these five exquisitely trained singers — David Martin, Morgan Crowly, Ciarán Kelly, George Hutton and Alan Leech have amassed more awards and prestigious performances than are easily mentioned: from the London Critics Choice Award to a Grammy; from the Royal Albert Hall to the White House, the Academy Awards and the Olympics.
Martin is described as possessing "a beautiful Italian bel canto quality in his voice with a fantastic vocal range and performs with incredible stamina, agility and flexibility." He has performed in the U.K., Europe and in major theaters in Ireland, including the Cork Opera House and the National Concert Hall, performing in such shows as "The Mario Lanza Story" and "The John McCormack Story."
He was recently chosen as the Irish representative in the Belvedere Singing competition in Vienna, that resulted in an invitation to the International Opernwerkstatt in Switzerland where he showcased the roles of Don José ("Carmen") and Manrico ("Il Trovatore") to critical acclaim.
Kelly is a graduate of the Royal Irish Academy of Music (RIAM), Dublin. He made his opera debut at the RIAM in January 2007 singing "Don Curzio' in a production of "Le Nozze Di Figaro." In 2010 Kelly sang as a soloist in the historical performance of Handel's "Messiah," a joint performance between St. Patrick's and Christ Church Cathedrals in Dublin. In 2012 he performed the lead role in Nicolini's "Le Due Gemelle" in Piacenza, Italy with singers from Italy, Japan, Korea and Armenia.
A graduate of University College Cork, Leech was appointed as tenor to the Irish National Chamber Choir in 2002. Career highlights to date in this role include performing for U.S. President Barack Obama at the White House, David Lang's "Little Match Girl Passion" and Gerald Barry's "Long Time" and "Schott and Sons, Mainz."
Hutton, well known for his performances of rousing Irish traditional melodies, has toured Canada, Belgium and Holland with the renowned choral ensemble Anúna and is scheduled to tour with them on an upcoming tour of Japan. In addition to the Irish vocal repertoire Hutton has performed at the Royal Albert Hall in London as part of the BBC Proms with the BBC Youth Chorus and in Mozart's Mass at the National Concert Hall in Dublin.
Saturday    March 11    State Theatre                New Brunswick
www.statetheatrenj.com
Tuesday    March 14    Mayo Performing Arts Center    Morristown
www.mayoarts.org