Aumm Aumm means "Hush Hush" in the Neapolitan dialect. Well, I'm letting this secret out. I never find myself in North Bergen, but I'll be visiting frequently now. A friend who works at the elite Le Bernardin – need I say more – had been posting photos of dishes from Aumm Aumm quite often in the last six months. I trust the culinary opinion of someone who is employed at a number one New York restaurant. So back in December, with no reservations accepted, a group of us tried this self-proclaimed "wine bar and pizzeria"…which neither descriptive piques my gustatory sense.






It's name it was: Aumm Aumm the surprise. I dislike the name; I dislike the tagline. Neither of them provide the golden key to this restaurant – fresh food! Because we waited 20 minutes, our hunger was building. It was best to order a cold throw-together dish to share. The Tagliere is a chef's selection of imported cheeses, imported coldcuts, olives, nuts and fresh fruit. It's the perfect traditional way to begin.
Another cold dish followed: the Insalata Aumm Aumm. A signature dish should be the popular one, and it was among us, as far as a salad can be. Baby arugula, endive, raddichio, artichokes, eggplant, cherry tomatoes, cacciocavallo cheese was all dressed with balsamic vinaigrette.
I'm not one to dine out and order pizza, but with a bunch of people sharing food, one is tempted to try it, since it's claimed in the name and you sit facing the opening of the large brick oven stove. Choices are red or white pizzas, round or the larger oblong. We went with a round, red one – the Cappriciosa. It was topped with tomato sauce, ham, mushrooms, Gaeta olives, artichokes and mozzarella. The flavors popped, but as is often with brick oven pizzas, the dough has that lovely charcoal crisp on the outside, but is soft and chewy on the top side. I am a crispy bread freak too, so I was a bit disappointed to get strips of pizza dough in our bread basket for starters.
They carry 150 types of wines. Several primi pasta dishes were ordered, and all were cooked al dente. On the first visit, we tried the Sciallatielli allo Scoglio with fresh pasta, baby clams, shrimp, octopus, PEI mussels, calamari and cherry tomatoes. The second time we went with their new frequent patron, my friend, and the same dish was twice as large and came out inside a pizza dough crust to absorb all the seafood flavors.
Seared pork chops, fish of the day, grilled octopus, among other second courses are worth exploring. Now that Aumm Aumm is no longer on the down low, they may need to change the name…please.
Evelyn Weiss Francisco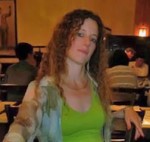 is a Foodie and blogger from the Garden State. Her Blog, "Dishing on Dining", has been running continuously since January of 2012. By day, Evelyn is a busy account executive with a Public Relations firm, by night, a writer with a passion for all things food related.