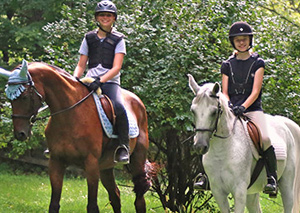 September is one of the most amazing months of the year in New Jersey. It's summer without the crowds. Cruising without the traffic. Dining without the wait.
And the weather couldn't be more perfect, featuring warm days and cool nights, blue skies, sunny mornings and incredible sunsets. This month just begs you to get out there and see the great outdoors. If we slow down once in awhile, we really get to appreciate where we live. We forget about the commute to work, the EZ Pass lanes and the parking lot conundrums we face every time we arrive at a destination.
To that I say, "Heigh Ho Silver. Away!" I'm hanging with My Friend Flicka and Mister Ed. I'm back in the saddle again. In short, I'm going horseback riding.
There are stables available for every level of equine expertise. From beginners to true equestrians, New Jersey is famous for it's breeding, training and riding centers.
Following is a taste of where to go, to ride these beautiful beasts and eNJoy the scenery at the same time. You're welcome!
Miller Farms
134 N. Grove Street, Berlin, NJ 08009
856-728-3500
Come enjoy the beautiful scenery at the only horseback/trail riding available in Camden County. Trail riding is offered Saturdays and Sundays from 10am to 4pm year round (Weather permitting).
Top View Riding Ranch
36 Hess Road, Blairstown, NJ 07825
908-362-1440
Top View Riding Ranch offers guided 1 hour, 2 hour, half day and full day rides along the scenic Paulinskill Valley trails and river. They offer family safe horses, experienced guides and rides to accommodate all levels.
Round Valley Trail Rides
186 Stanton Mountain Road, Lebanon, NJ 08833
908-236-7433
Wanna be a cowboy/cowgirl for the day?  Fire up the country music and take a short drive out to Round Valley Ranch for an adventure that is a departure from everyday life.  Wrap your mind and legs around one of their Rocky Mountain Trail Horses, personally picked, trained, and trail tested for optimum safety and performance.
Echo Lake Stables
55 Blakely Lane, Newfoundland, NJ 07435
973-697-1257
Echo Lake Stables also offers year-round nighttime horseback riding adventures on Friday and Saturday nights. On the nighttime adventure ride, you will go through the woods and through small streams under the light of the moon and stars. You will then arrive at a campsite and enjoy a 1 1/2 hour Old fashioned Western cookout with unlimited free food!
North Wind Stables 
6 Meadow Cliff Lane, Hardwick, NJ 07825
908-214-7963
North Wind Stables is located in the beautiful and rural Delaware Water Gap region of Warren County, NJ. Their dedicated team of instructors provides youth and adults with the best possible training available, weather your goal is success in the show ring or confidence riding the trails.
HorseSense Therapeutic Riding Center
145 Easy St., Howell, NJ 07731
732-910-7855
HorseSense Therapeutic Riding Center offers Beginner Riding Lessons, Therapeutic Riding Lessons, Family Farm Experience, Team Building and Animal Assisted Activities; all custom tailored to your needs.
Legacy Stables
3299 Bordentown Avenue, Sayreville, NJ 08872
732-727-3838
Their riding lesson and trail package is a romantic and unique date idea for couples! The couple receives a half hour lesson, where an instructor will teach you basic steering and communication with the horse, followed by a one hour guided trail ride.
No matter where you choose to ride, trained professionals will be there to guide you along to a fantastic experience. Walk, canter, trot, run, it's all good!