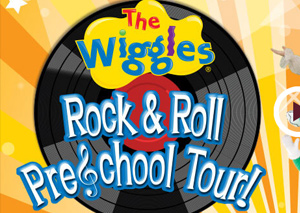 Australia has given us many things to eNJoy and celebrate over the years. Hugh Jackman. Could there ever be a more perfect Wolverine? And how about Crocodile Dundee, that oddity of the outback, who owned Hollywood in the 90's? Australian rules football, the Helmsworth brothers, Mad Max, Foster's lager, shrimps on the Barbie, and that showbiz power couple Nicole Kidman and Kieth Urban. They just had a baby, and it's perfect, because she kept that little crib that Tom Cruise used to sleep in. On the flip side it has also given us Mel Gibson. But perhaps their greatest export to the good old US of A is something for the littlest Americans, the tykes of New Jersey, and it comes in the form of four characters called Anthony (Blue), Emma (Yellow), Lachy (Purple) and Simon (Red), collectively known as The Wiggles.
What's that you say? You're not familiar with a family-oriented entertainment option? You've been barraged by the Miley Cyrus's and Nicky Minaj's of the world and you afraid for the future of our children? Fret no more parents, because this group of happy campers delivers the goods in a way that will make any mom or dad sit back, relax and eNJoy the show. A bit of background might be in order right about now.
The Wiggles are the world's most popular children's entertainment group, which formed in Sydney, Australia in 1991. Having been performing for over 24 years, it's now the case that children who once saw the fab four of fun are now bringing their children to enjoy the best in early childhood entertainment! The last year has seen The Wiggles confirmed as the #1 selling children's artist on DVD, the #1 children's entertainment live concert attraction (their most recent tour has sold out over 100 shows!), awarded the ARIA award for the Best Children's Album (making them the most awarded artist in any one category).
This year, having already stormed the charts with Rock & Roll Preschool, they're also taking their live show on tour, and they are bringing along their good friends, Dorothy the Dinosaur, Captain Feathersword, Wags the Dog and Henry the Octopus.
But until they come to a town near you, Anthony, Simon, Emma and Lachy can be seen on season 2 of their hit TV show Ready, Steady, Wiggle!
Fortunately, they ARE coming to a town near you. That venue is the Bergen Performing Arts Center in Englewood and they will be performing their magic on September 27th.
"This tour will get you all shook up," laughed Emma. "Of course we'll play our classic wiggly favorites like 'Rock-a-Bye Your Bear', 'Fruit Salad' and 'Do the Propeller!' affirmed Lachy. Simon added excitedly, "With this new tour, we've got everything from Irish dancing, ballerinas, and a couple of hip shaking Elvis's!" "We can't wait for our friends in the USA to see this new show!" enthused Anthony.
"The Rock & Roll Preschool" tour will include new music from the Rock & Roll Preschool album. Kids will shake to "That's the Sound of Rock & Roll", rise and shine with "Wake Up!" and be the coolest kid in preschool with "I Want a Leather Jacket".
So you get the picture. It is most certainly NOT the MTV VMA Awards. Bring the kids, bring nanny and pop-pop, heck, bring the dog! This show will just plain make you feel good.