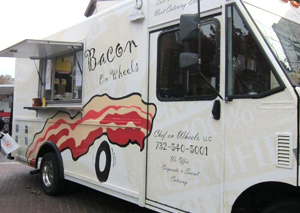 Once again food and wine lovers will converge at the Laurita Winery in New Egypt for a Laurita Winery Gourmet Food Trucks weekend. Is it me or does that just seem like trouble. Experience the trending Gourmet Food Truck offerings while sipping on wine! Again, I am cautiously optimistic. Live music all day and the gathering of good friends will make this day special. OK, I am REALLY starting to feel it now. Enjoy gourmet treats from the tri-state area's top food trucks. You had me at food and wine. Just sayin.'
A separate wine tasting tent will be available. $8 per adult, souvenir glass and 6 wine samples included. My favorite part. Wine tasting. Six samples of pure pleasure. And cheap! For our preferred member guests please visit the VIP wine tent to purchase your wine by the glass or bottle. Please ask a staff member for our special bar locations. And for our special super groovy preferred member guests we roll a giant wine keg right to your table!!!
But it is not just about the wine. Everything is covered under one admission price. That includes vineyard tours, live entertainment, parking and shuttle service, an array of fun stuff for the kiddies, a fantastic nighttime fireworks display and a souvenir wine glass so you can remember tomorrow where you spent yesterday.
Yes! Children are welcome!  We will have activities for kids such as bouncy units, face painting, pony rides (fee may apply) and other fun stuff.  The Wine Grove area has our live entertainment and a children's playground.  Please enjoy your family time with us all day. That's right, you go have a fun time in the bouncing unit while we get happy doing the elbow bend!
Honestly, the focus on this day (in addition to the wine. Did I mention there was wine?) is going to placed squarely on the fabulous food trucks that will be bringing an eclectic blend of culinary delights to the winery. Check out some of these names: Aphrodite's Kitchen, Bacon on Wheels, Empanada Guy, The Morris Grilled Cheese Truck, Hibachi Heaven, Oink and Moo, The Original Soupman, Waffle De Lys, Wonderland Cakes…and more. I recently saw "Chef," Jon Favreau's new film. All about food trucks and the picture behind the panel. I am so hungry writing this right now that I am going to take a break. Talk amongst yourselves for a minute………………
Ok. I'm back. And ready to resume the regularly scheduled article…
There are many activities to eNJoy all weekend long:
Craftsman-Artisan Danny Dries Saturday and Sunday
Master Craftsman Danny Dries is a chainsaw carver you will want to be sure to watch!  Sit back and relax while watching the artistry of "Danny the Chain Saw Carver" as he creates one-of-a-kind sculptures and furniture before your eyes.
Country Line Dance Pavilion
 Dance
times:
Saturday, 1:00-9:00pm
Sunday, Noon-5:00pm
Your host and MC will be Lisa "behind the music desk" and Billy who will offer a few dance instructions.
Live Mural Painting
Saturday and Sunday
Laurita is pleased to announce that Jon Conner (Lank) will showcase his talent on creating a collection of murals and canvases painting live!  Jon is an artist, designer and educator from Hamilton, New Jersey.
Saturday, Oct. 4, 11:00 – 10:30PM
Sunday, Oct. 5, 11:00 – 8:00PM