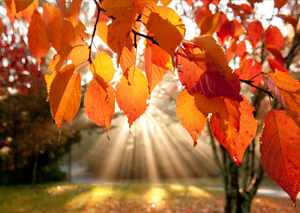 Being outdoors in autumn in New Jersey is a treat. And finding treats is no problem either as we take you from north to south, east to west to find the best and most colorful ways to celebrate the harvest, the cornucopia of delights and all the festivities that come with it, for all ages.
Cranberry Harvest Tours at Whitesbog
Weekends in October
 Witness the annual cranberry harvest up close as fifth-generation cranberry growers Joe Darlington and Brenda Conner lead this three-hour tour. You'll learn the history of the crop, witness modern harvest technology and ask as many questions as you have about Whitesbog, the Pine Barrens and cranberries. 9 AM and 10 AM. $35. Whitesbog Village, 120 Whitesbog Road, Brown Mills (609-500-1074; tours@pbnf.co).
Highlands 14th Annual Oktoberfest 
October 4 
Modeled after Munich's traditional Oktoberfest, this annual celebration promises authentic German cuisine, plenty of potables, live music and dancing. The festivities include a Best Dressed contest and a Beer Stein Holding contest, both with special prizes. 2-9 PM. Free. Veteran's Park, 60 Bay Avenue, Highlands (732-291-4713).
Oktoberfest in Historic Smithville
October 4-5 
Explore more than 60 intriguing shops and boutiques during the town's Oktoberfest. In addition to the stores along cobblestone paths of the themed village, local vendors will set up shop on the manicured grounds of the Village Greene. The event hosts over 100 crafters and offers live music and unique food. The Smithville Inn and the Fred & Ethel's Lantern Light Tavern will offer Oktoberfest specials. 10 AM-5 PM. Free. Historic Smithville at the Village Greene.
The Great Pumpkin Train
October Weekends
 Hop on a steam train to a corn maze or enjoy a scenic ride along the Delaware River. The train stops at a pumpkin patch located in front of the Carpentersville Lime Kilns, where every child can pick his or her own pumpkin for free. 11 AM, 12:30 PM, 2 PM and 3:30 PM. $17; children, $9. Delaware River Railroad Excursions, 162 S Main Street, Phillipsburg (887-TRAIN-RIDE).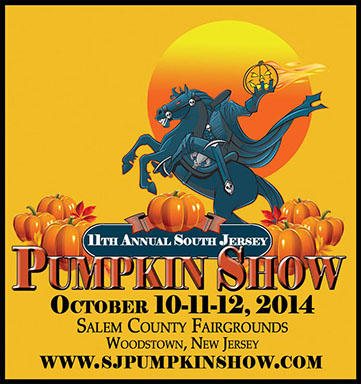 11th Annual South Jersey Pumpkin Show 
October 10-12 
This three-day festival offers activities for the whole family, including amusement rides, pumpkin-wine samplings, a Little Miss & Mister Pumpkin Pageant and a live performance of The Legend of Sleepy Hollow. New this year is a costume contest for children ages 3 to 10 and the Cast Iron Toss for women 18 and up. This year's Big Pumpkin Weigh-Off, set for Saturday at noon, gives pumpkin growers a chance to win $4,000 for the plumpest pumpkin. Friday, 5-10 PM; Saturday, 10 AM-8 PM; Sunday, 10 AM-5 PM. $6 per car. Salem County Fairgrounds, 735 Harding Highway, Woodstown (856-765-0118).
Sussex County Harvest, Honey & Garlic Festival
October 11
 The fifth annual festival celebrates the county's agriculture, ecology and arts. Browse the farmers' market for local produce, flowers and wine. The Sussex County Beekeepers Association and the Garden State Garlic Growers will be in attendance. 10 AM-4 PM. Free. Sussex County Fairgrounds, 27 Plains Road, Augusta (973-579-0500).
Lighthouse Challenge
October 18-19 
Keep New Jersey's lighthouses shining brightly by participating in the Lighthouse Challenge. For only $1, attendees receive a passport and admission to 11 participating lighthouses. Bring your passport and be sure to ask the volunteer staff for a stamp from each location. This special weekend gives families a chance to learn the state's maritime past and experience the beacons that led so many sailors home. Admission, $1. Children 11 and under climb free with an adult. Multiple locations (609-884-5404)
Chatsworth's 31st Annual Cranberry Festival
October 18-19 
A celebration of New Jersey's cranberry harvest—the third largest in the country—as well as the Pine Barrens and local culture. About 150 local artists, vendors and craftspeople will demonstrate their work. 
9 AM-4 PM. A $5 donation for parking is appreciated. Downtown Chatsworth (609-726-0006).
Winternights Festival 
October 19 
Vetrnaetr, or Winternights Festival, was a Norse custom in pre-Christian Scandinavia celebrating the coming of winter. Today, it's a place to salute and share Viking culture. Enjoy authentic food, traditional Viking children's games and the sounds of Norsewind performing Old Norse and Celtic music. A portion of ticket sales will benefit veterans. 11 AM-4:30 PM. Adults, $3; seniors, $2; children under 12, free. Vernon Nordic House, 233 Route 94, Vernon (862-213-2596).