I recently had the pleasure of having a business lunch with a client I've known for years but never met face-to-face. He's out of Toronto and has come to New York City but has never spent any time in New Jersey. He asked me to make the arrangements, but it needed to be near the Lincoln Tunnel for him to get back to Midtown.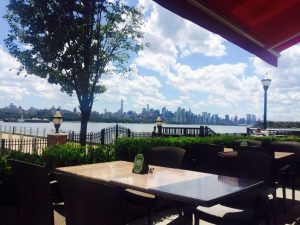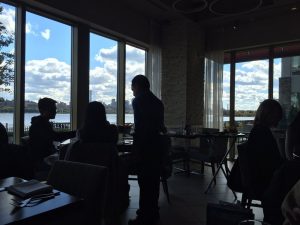 This would be an easy task. It had to be waterfront dining in my mind. New Jersey is fortunate to have lots of waterfront, especially from Middlesex County south. But let's focus on New Jersey's Gold Coast for this purpose – or the sprawling Hudson Waterfront as most of you know it. I picked Edgewater.
These days, you can count on an increase in prices at any establishment that's located waterfront, be it residential, commercial or retail. Dining waterfront on a beautiful spring day is unbeatable for the view, including the NYC skyline – and the calming nature of water. I made a reservation at the young restaurant Haven, which is at the edge of yet another mixed-use development that is still in progress. It already is surrounded by functioning residential and retail spaces. Its modern look offers indoor or outdoor seating and a bar.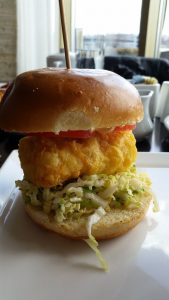 The waiter was among the top friendliest and respectful servers I've encountered. This was lunch, so we skipped appetizers, and since nobody was sure which party was footing the bill yet, we all ordered conservatively. There's no item, be it main entrée or sandwich, under $18 (remember, prime waterfront space equals prime rent for the landlord). When asked, the waiter suggested the Marinated Hanger Steak Salad with arugula, blue cheese, pickled red onions, avocado, croutons and red wine vinaigrette (the most expensive lunch item at $22) and the Fried Fish Po' Boy made with Atlantic skate, sweet cucumber, tomato, romaine and garlic-lime tartar sauce. I don't prefer a deep fried dish usually, but I love New Orleans-style food and went with his recommendation. I chose the side of mixed baby greens, rather than fries, to balance it. The fish was fried perfectly crispy, not greasy, flakey and moist on the inside. The roll was perfectly sized to its contents and was bakery fresh tasting.
If you want to impress, always land a window seat or sit outdoors at a waterfront restaurant in New Jersey. There are a number of great newcomers in Edgewater alone, including Pier 115 and Orama, and some older staples like Le Jardin and Crab House. Just drive up and down River Road from Fort Lee to Weehawken – even the non-water side of the road has the new Lobster Shack and the established La Vecchi Napoli. You'll find something that floats your boat along the river.
Evelyn Weiss Francisco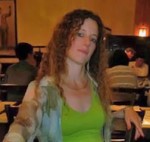 is a Foodie and blogger from the Garden State. Her Blog, "Dishing on Dining", has been running continuously since January of 2012. By day, Evelyn is a busy account executive with a Public Relations firm, by night, a writer with a passion for all things food related.