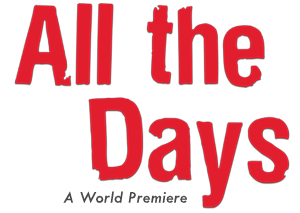 The McCarter Theatre in Princeton has a reputation for presenting some of the best dramatic and musical fare in the state. It also has the reputation for debuting some of the best new plays by nationally known playwrights. It is no secret that we here at enjoyNJ.com are big fans and do not hesitate to get the word out when something exciting is happening there. I also have a personal history with this magnificent company, having performed there while still a high school student. Recently I had the pleasure of attending Ken Ludwig's A Comedy of Tenors. One of the featured actors in that cast happened to be my old Rider University roommate, Ron Orbach, a man I have performed alongside on many occasions, many moons ago. I am happy to report that he is as brilliant as ever, as is the uber-talented cast of players that now surround him in this new production, All The Days. In addition to Mr. Orbach the cast features Caroline Aaron, Leslie Ayvazian, Justin Hagan, Stephanie Janssen, Raphael Nash Thompson, and Matthew Kuenne.
A brief synopsys:
There's nothing worse than family…and nothing better. Miranda has done  everything in her power to create a life completely different than the one she came from. But a week before a family celebration, Miranda suffers a  lapse of judgment and invites her deliciously eccentric and overbearing  mother to come stay. With all the kin in one place, will they all stay in one  piece? This heartfelt and hilarious world premiere is about a family of very funny people in the midst of loss, love, and forgiveness.
As always, McCarter goes one step further when presenting a new work of art.
On two occasions they will hold Post Show Discussions.
Post-show discussions at McCarter are highly interactive audience-based conversations
facilitated by a member of McCarter's artistic staff, often featuring members of the
acting company. These discussions focus on a range of topics including how artistic choices were made for the production, the actors' process, and reflections and questions from audience members.
Post-show discussions will take place on stage, directly following the 7:30pm performance
on Wednesday (approximate start time 9:45pm) and the 2pm performance on Sunday
(approximate start time 4:15pm).
May 1 – May 29th
Tuesday through Thursday: 7:30PM
Friday: 8:00PM
Saturday: 3:00PM and 8:00PM
Sunday: 2:00PM and 7:30PM