If you've read my previous articles here on eNJoy NJ, you'll know I love finding old coins. For whatever reason, when it comes to finding old things, coins speak to me most. As a kid I used to love finding modern coins under the town pool's picnic tables, as if I were discovering lost treasure. Years later I'm doing exactly that.
During Colonial times, half the currency (coinage) in circulation was counterfeit. While the risks of getting caught were severe, the rewards of not getting caught resulted in more money in your pouch. Since holograms and slick invisible pens didn't exist to help merchants determine the authenticity of the currency they exchanged, they turned to a very simple means of measurement: weight. Simply, merchants would weigh coins on a counter-balanced scale against a weight to determine if the sum paid measured up.
On a recent, albeit short excursion, I returned to a property that was once home to both a shoemaker and a produce stand in the early 1800s. I have previously found relics from both the 1700s and 1800s, as well as some modern goodies there. On my last outing I found something that I couldn't identify at first. But after some help through friends on some Facebook forums, I had a lead — a possible trade weight!
After some careful cleaning with a toothpick and water, I revealed the evidence I needed: "2 oz" imprinted on the face. I was very excited for a couple reasons: a) this supports the evidence of early maps that commerce did take place on this property, and b) it's not a relic I often see found by others.
Finding this trade weight has really brought me closer to the property, and to those who supported themselves through the products and services they sold. It's the type of tangible connection that I absolutely love. It will display nicely with the coins I found in the same area, such as a 1791 Spanish half reale and an late-1700s/early 1800s half cent, among others. I will continue to go back and find any other coins that may have fallen off the scale!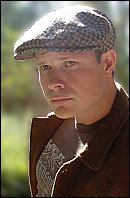 Grant Hansen is an avid relic hunter, and focuses most of his efforts in his home state of New Jersey. He and his detecting partner James run http://relic-hunters.com and work with local and national historical societies and museums to preserve lost history. Some of the best finds Grant has made is the people he's met and befriended along the way. It's the kindness and generosity of property owners that makes it possible for him to pursue his passion. These articles are dedicated to these special people.