Everyone know I'm a dessert snob. Brought up being served European style pies, tarts and cakes right out of our oven, I can't get myself to set foot in most American-style bakeries for a sugary rainbow overload. I favor Italian and French pastries with nods yet again to Pasticceria Rocco's and Silver Moon in New York City. Bergen County, New Jersey shines with L'Arte, Erie and Ciel.
Today began with the notion of lunch at Aumm Aumm in North Bergen, arriving at 12:20. It's been a year exactly since I last ate there. We walked in from the 18-degree weather to be told, "We don't open until 1:00 for lunch." I couldn't comprehend why so late to start lunch service. In a panic, I Googled "lunch near me" and up popped a Yelp 4-star eatery La Sorrentina only .5 miles away.  My first impression was a pizzeria. I downgraded my expectations of having a satisfying lunch. But once the oven-warm bread and olive oil came out, I thought the runway was clear.
I am not particularly enamored with pizza unless there's something special about it. This one was a little special tasting. We ordered a small (six slices) QUATTRO STAGIONI with Eggplant, Artichokes, Mushroom and Prosciutto. That almost could have done it for me. Nervously I ordered the SPAGHETTI AI SAPORI DI MARE: Mixed Seafood with a Spicy Tomato Sauce because that's what I had in mind for Aumm Aumm. Well the shrimp, mussels, clams and calamari were married with an arrabiata sauce that was reminiscent of Bocconi.  And the LA CAPRESE, Homemade Mozzarella with Tomatoes and Extra Virgin Olive Oil starter was quite satisfying.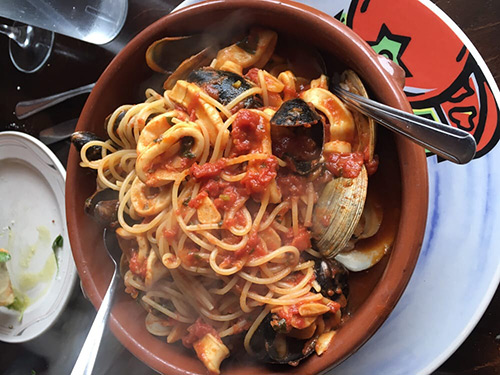 It was when my Argentinian friend brought up dessert at a nearby Argentinian bakery that I began to pout internally.  I pre-judged. I had an image of churros – a fried dessert. Oh no! That's all I could see. He insisted, "We go for coffee there too!" Less than a half mile drive and we arrived at Dolce De Leche, a large, bright bakery cafe with many tables, most occupied. The first thing I noticed was the busy bakers in the kitchen through the glass.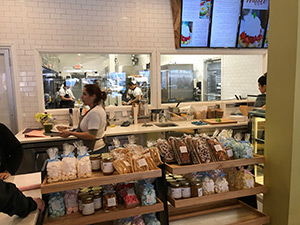 It was nice to actually see through the kitchen. This cafe offers a selection of savory breakfast and lunch items too, such as quiche and sandwiches and empanadas, but it's hard not to go directly to the dessert cases. I skipped over the fried section to dispel my preconceived notions and went directly to the small desserts that look like they could've been in Rocco's or Silver Moon's cases. I actually tried an elephant ear too just because they looked so perfect. It was the mini desserts, though, with fruit and dulce de leche that were my favorite. And yes, the coffee measured up…in this instance, a cappuccino (a real cup rather than paper would've made it better for staying in house). Who knew Argentinians did dessert in a European style — not too too sweet!
Evelyn Weiss Francisco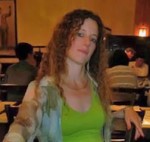 is a Foodie and blogger from the Garden State. Her Blog, "Dishing on Dining", has been running continuously since January of 2012. By day, Evelyn is a busy account executive with a Public Relations firm, by night, a writer with a passion for all things food related.